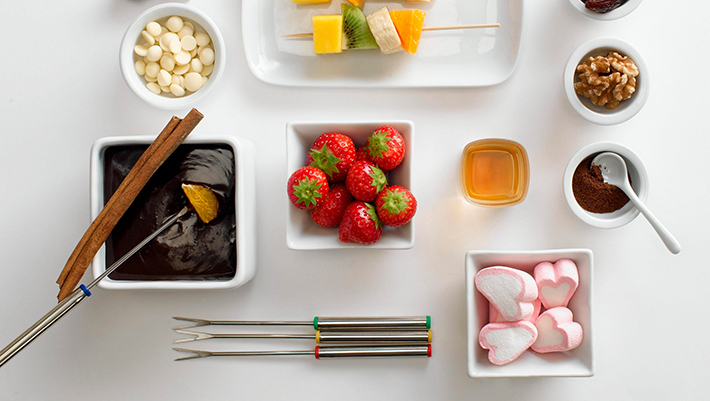 Indulge your chocolate cravings with this low-calorie, high-flavor dessert.
Print
Follow Our Recipe
Ingredients
1 cup sugar
3/4 cup brewed espresso or strong coffee
1/2 cup unsweetened Dutch-process cocoa powder
8 ounces bittersweet chocolate (about 60 percent cocoa), finely chopped
1 teaspoon vanilla extract
2 pints strawberries (60 to 72 strawberries)
In medium saucepan over medium-high heat, bring sugar and espresso to simmer.
Put cocoa powder in medium microwavable serving bowl and slowly whisk in hot coffee mixture until smooth. Add chocolate to bowl. Let stand until chocolate softens, 5 minutes. Add vanilla and whisk until smooth.
Serve with strawberries for dipping. To reheat, microwave in 15-second increments until warm, stirring between increments. Or place bowl on heating pad set to high to keep fondue warm.
Nutrition Facts: Calories: 186, Carbs: 36g, Protein: 1g, Fat: 6g, Sat. Fat: 5g, Sodium: 21mg, Fiber: 2g