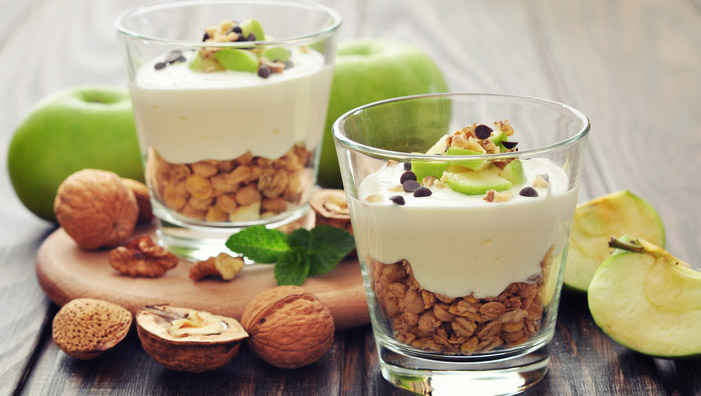 Simple layered parfait for breakfast
Print
Follow Our Recipe
Prep Time: 10 min|Cook time: 5 min|Yield: 4
Ingredients
¼ cup pecans, chopped
1 cup apple, cored, but not peeled, diced into ¼"inch pieces
3 teaspoon brown sugar
1 tsp ground cinnamon
¼ tsp ground nutmeg
2 cups Greek yogurt
¼ cup granola
To toast the pecans: Preheat the oven to 400 degrees. Arrange pecan pieces on a baking sheet and bake for 3-5 minutes.
Remove from oven and allow to cool.
In a mixing bowl, combine the toasted pecan pieces, diced apple, sugar, cinnamon and nutmeg. Toss well to combine.
In a small glass or parfait cup place ¼ of the granola, then place 1/4 of the yogurt. Top with a sprinkling of granola. Repeat with the remaining parfaits.
Nutrition Facts: Calories: 230, Carbs: 30mg, Protein: 10g, Fat: 7g, Sat. Fat: 1g, Cholesterol: 3mg, Sodium: 40mg, Fiber: 2g