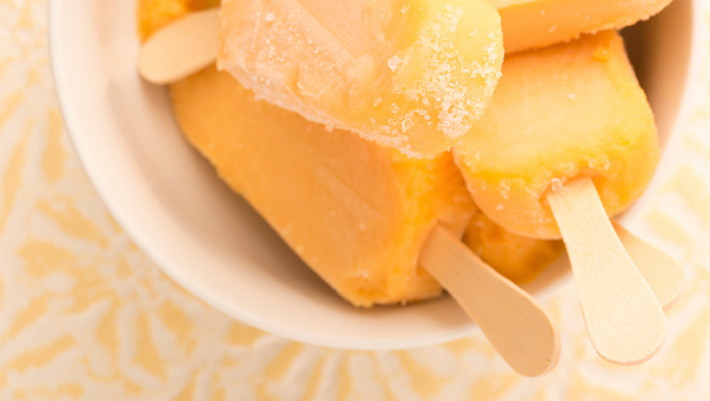 Perfect for on-the-go mornings, these make-ahead frozen pops combine crunchy granola with sweet mango for an a.m. treat that tastes good and is good for you.
Print
Follow Our Recipe
Ingredients
1 cup nonfat plain Greek yogurt
1/4 cup nonfat milk
1/3 cup orange juice (with pulp)
1 tablespoon honey
2 cups fresh or frozen, thawed mango chunks, divided
1 cup granola
Mix together yogurt, milk, orange juice, honey, and 1 cup mango chunks in medium bowl. Using handheld immersion blender or by transferring mixture to food processor, puree mixture until mango is in small pieces, just 15 to 20 seconds. Return yogurt mixture to medium bowl.
Stir granola and remaining 1 cup mango chunks into yogurt mixture. Gently pour mixture into frozen dessert molds, using measuring cup to pour, if necessary. Insert frozen dessert sticks (or mold tops) into each mold. Place in freezer until pops are frozen, around 6 to 8 hours.
To remove frozen pops from mold, hold under warm water until pop can be easily pulled free of mold. Serve.
Nutrition Facts: Calories: 74, Carbs: 26g, Protein: 5g, Fat: 7g, Sat. Fat: 1g, Sodium: 14mg, Fiber: 4g