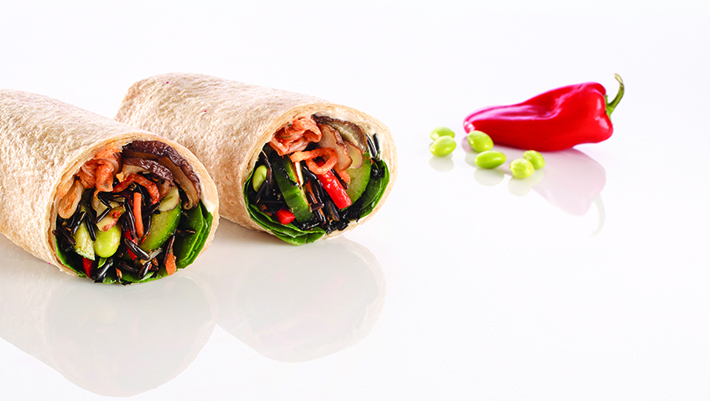 Mindful wrap with roasted garlic aioli, forbidden rice salad, nori, baby spinach, kimchi, smoky shiitake & sliced almond
Print
Follow Our Recipe
Prep Time: 15 to 20 minutes|Cook time: 35 minutes|Yield: 4 wraps; 1 wrap each
Forbidden Rice Salad
Ingredients
1 Tablespoon peeled and chopped fresh ginger
1 ½ Tablespoons chopped fresh cilantro
1 Tablespoon seeded and chopped jalapeno peppers
1 ½ Tablespoons low sodium soy sauce
2 ½ Tablespoons agave nectar
1/2 teaspoon sesame oil
1 ½ Tablespoons unseasoned rice vinegar
1 ¼ cups low sodium vegetable stock or water
1/2 cup black pearl medley rice, rice blend of choice or black forbidden rice
1/2 cup thawed frozen edamame
1 cup seeded and thinly sliced red peppers
1/3 English cucumbers, sliced in half lengthwise, then sliced crosswise into 1/4- inch slices to create half moons
1/2 cup peeled and shredded carrots
1/2 teaspoon togarashi spice blend
Roasted Garlic Aioli
Ingredients
2 ounces (about ½ cup) raw and peeled garlic cloves
1 Tablespoon lemon juice
1 ½ teaspoon canola oil
1/3 cup plain low fat yogurt
1/8 teaspoon ground black pepper
1/8 teaspoon kosher salt
Smoky Shiitake Bits
Ingredients
1 Tablespoon smoked paprika
1 ½ teaspoons granulated garlic or garlic powder
1 ½ teaspoons granulated onion or onion powder
1/4 teaspoon celery salt
1/2 teaspoon ground black pepper
8 ounces fresh shiitake mushrooms, stems removed and sliced thin
Oil for deep fat frying
Forbidden Rice & Crispy Shiitake Wrap
Ingredients
(10-inch) whole grain flour tortillas
4 Tablespoons shredded sushi nori
2 cups baby spinach
1/4 cup drained cabbage kimchi
1/2 cup sliced almonds
To Prepare Forbidden Rice Salad
NOTE: Use gloves to seed peppers. Pepper juice can burn eyes. Wash hands thoroughly with soap and water after seeding peppers.
Place the ginger, cilantro, jalapenos, soy sauce, agave, sesame oil and rice wine vinegar in a food processor or a blender. Process until the ginger and garlic are minced. Cover, and place in the refrigerator until ready to use.
Bring the stock or water to a boil in a pot. Stir in the rice medley. Reduce the heat and simmer covered for 35 mins or until the rice is tender and all liquid is absorbed. Remove from the heat. Fluff the rice with a fork. Allow to cool slightly.
In a mixing bowl, add all the ingredients. Toss gently until evenly coated and distributed. Cover, and place in the refrigerator for at least 2 hours prior to serving.
To Prepare Roasted Garlic Aioli
Place the garlic cloves on a sheet tray. Spray with cooking spray.
Roast in a preheated 350 degree Fahrenheit oven for 10 minutes or until lightly golden. Remove from the oven and allow to cool slightly. Finely chop the garlic.
Place all the ingredients in a food processor or a blender. Blend until smooth. Cover, and place in the refrigerator until ready to use.
To Prepare Smoky Shiitake Bits
Combine smoked paprika, granulated garlic and onion, celery salt and pepper. Mix well. Store in airtight container for use.
Place the sliced mushrooms in a preheated 350 degree Fahrenheit deep fat fryer. Cook for 20 to 30 seconds or until crisp.
NOTE: Use tongs to prevent mushrooms from clumping together while frying.
Drain well.
Combine fried mushroom and the spices in a bowl. Toss until evenly coated. Serve warm.
To Prepare Forbidden Rice & Crispy Shiitake Wrap
Warm a tortilla in a microwave or on a sauté pan over medium-high heat to soften.
Evenly spread 2 Tablespoons roasted garlic aioli over entire tortillas.
Place 1 Tablespoon nori and 1/2 cup baby spinach on the bottom third of each tortilla.
In order, place:
- 3/4 cup of forbidden rice salad
- 1 Tablespoon of kimchi
- 1/4 cup of smoky shiitake bits
- 2 Tablespoon of sliced almonds.
Tuck in left and right sides of tortilla over filling. Roll to close burrito style, finishing with seam side down. Cut in half on the bias. Enjoy immediately! Or, wrap and hold in a refrigerator for 1 day.
Nutrition Facts: Calories: 460, Carbs: 66 g, Protein: 16 g, Fat: 16 g, Sat. Fat: 2 g, Cholesterol: 0 mg, Sodium: 680 mg, Fiber: 11 g