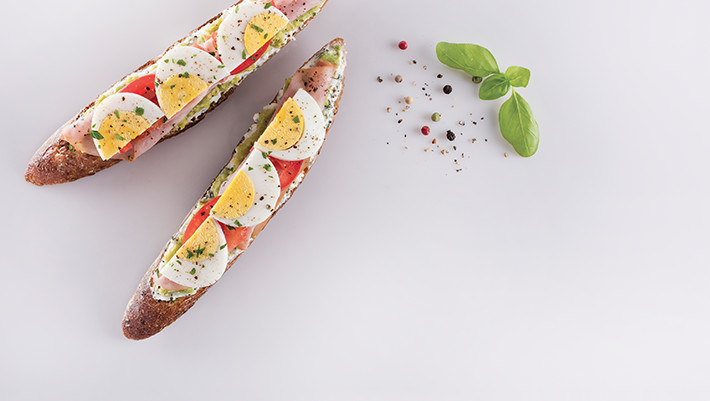 Toasted baguette with smashed avocado, low sodium ham, sliced hard cooked eggs, greek yogurt pesto & tomato
Print
Follow Our Recipe
Prep Time: 5 to 8 minutes|Cook time: 15 to 25 minutes|Yield: 8 toasts; 2 toasts per serving
Garlic Parmesan Yogurt Spread:
Ingredients
1 fresh garlic clove
1/2 teaspoon canola oil
1/3 cup nonfat plain Greek yogurt
3 Tablespoons chopped fresh basil
3 Tablespoons grated parmesan cheese
1/8 teaspoon ground black pepper
Ham, Egg & Avocado on Toast:
Ingredients
2 large eggs
1 (10-ounce) multigrain baguette
1/2 large avocado, peeled, seeded and mashed
4 ounces shaved low fat, smoked deli ham
2 plum tomatoes, sliced crosswise, then halved
1/4 teaspoon freshly cracked black pepper
1 teaspoon chopped fresh Italian parsley
To Prepare Garlic Parmesan Yogurt Spread:
Rub peeled garlic with canola oil and season with kosher salt.
Roast in a 300-degree Fahrenheit oven until golden brown and fragrant, about 15 to 25 minutes.
NOTE: Pan size and cooking times will vary depending on the amount of garlic that is being roasted. Be careful to not burn garlic.
In a mixing bowl, combine all ingredients until well-blended. Cover, and place in the refrigerator until ready to use.
To Prepare Ham, Egg & Avocado on Toast:
Place eggs in cold water in pot. Bring to a boil. Cook for 10 to 12 minutes or until eggs are cooked through. Drain and place eggs in cold water. Peel. Slice each egg crosswise. Then, cut in slice in half.
As needed, slice baguette into 8 long slices on the bias. Place on sheet pans. Toast in a preheated 400-degree Fahrenheit oven for 3 to 4 minutes or until lightly golden. Or, place in a toaster oven until lightly golden.
Spread 1 Tablespoon garlic parmesan yogurt over each slice of bread.
Evenly top with 1 Tablespoon mashed avocado, ½-ounce shaved ham, 2 half slices tomato and 3 half slices egg.
Sprinkle each toast with one pinch of freshly cracked black pepper and 1/4 teaspoon chopped parsley.
Place 2 toasts on a service plate. Enjoy immediately!
Nutrition Facts: Calories: 300, Carbs: 37g, Protein: 17g, Fat: 10g, Sat. Fat: 2.5g, Cholesterol: 100mg, Sodium: 690mg, Fiber: 4g