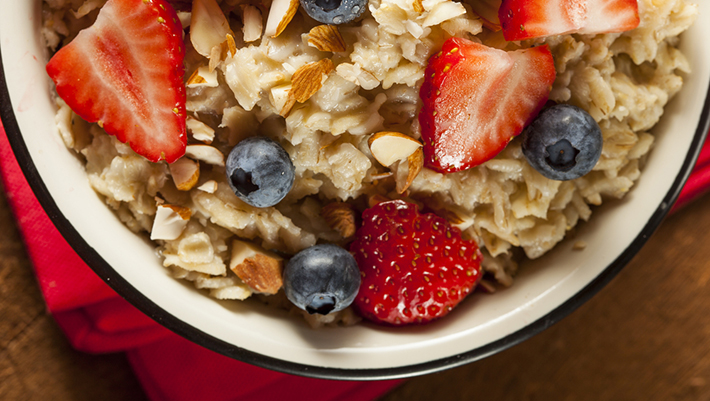 Skip the stove and enjoy this hearty breakfast classic chilled. The no-hassle trick is to combine the ingredients the night before and let them mingle overnight in the fridge for a yummy wake-up call. One bowl is packed with cholesterol-lowering oats and beneficial fiber (not to mention a sweet and nutty flavor). Best of all, it will leave you feeling satisfied all morning.
Print
Follow Our Recipe
Ingredients
2 cups rolled oats
1 ½ tablespoons chia seeds (find them in the natural foods section of your grocery store)
1 ½ tablespoons honey
½ teaspoon orange zest
Juice of 1 orange
½ teaspoon vanilla extract
2 ¼ cups low-fat 2 percent milk or unsweetened almond milk
¼ cup sliced almonds
1 cup sliced strawberries or blueberries (or any other fruit)
Instructions
In a large, resealable container, add oats, chia seeds, honey, orange zest, orange juice and vanilla extract. Stir to combine. Pour in milk and mix to combine. Place in the refrigerator and let it sit overnight.
Top oatmeal with almonds and berries and serve. If you'd prefer your oatmeal hot, simply warm it in the microwave for 1 to 2 minutes, stirring halfway through, and then add the toppings.
Nutrition Facts: Calories: 302, Carbs: 48g, Protein: 12g Fat: 8g, Sat. fat: 2g, Sodium: 103mg, Fiber: 3g