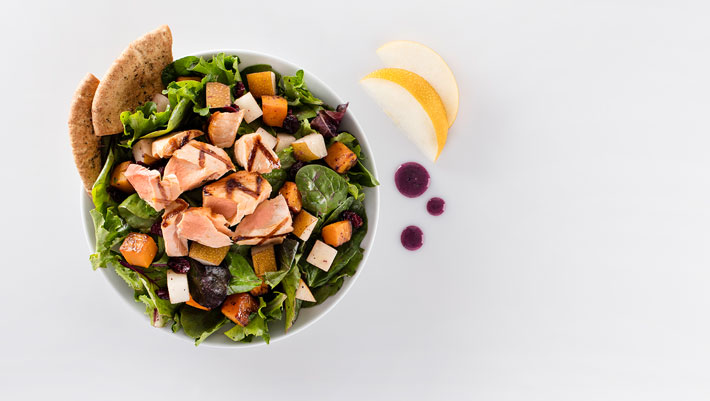 Tender greens, Asian pear, butternut squash, salmon, dried cranberry & ginger mint blueberry dressing with crisp pita
Print
Follow Our Recipe
Prep Time: 5 to 10 minutes|Cook time: 15 minutes|Yield: 4 servings
Roasted Squash:
Ingredients
1 pound 6 oz peeled and cubed butternut squash
Coat sheet pan with oil spray. Place squash in a single layer. Do not overcrowd. Lightly spray top of squash with oil spray.
Roast in a preheated 400 degree F. convection oven (450 degree F. standard oven) for 15 minutes or until lightly browned. NOTE: Flip halfway through cooking time to ensure even browning.
Allow to cool at room temperature before using.
Ginger Mint Blueberry Pomegranate Vinaigrette:
Ingredients
1/3 cup Marie's Blueberry Pomegranate vinaigrette
4 teaspoons finely grated fresh ginger
2 teaspoon chopped fresh mint leaves
Add vinaigrette, ginger and mint in a bowl. Mix well. Set aside.
Pita Crisps:
Ingredients
2- 6" whole grain pita bread
1/8 teaspoon True Lemon crystals
1 teaspoon salt free Italian seasoning
Spray pitas with oil spray.
Evenly sprinkle with lemon crystals and seasoning.
Cut each pita into 4 wedges. Place onto sheet pan.
Bake in a preheated 350 degree F. convection (400 degree F. standard) oven for 5 to 7 minutes or until crisp.
Allow to cool at room temperature before using.
Salad:
Ingredients
4- 4 ounce fillets Atlantic salmon or 1 pound fillet cut into 4 equal portions
10 ounces mixed greens (mesclun mix, spring mix or baby greens)
12 ounces cored and diced Asian pears
1/4 cup dried cranberries
In a bowl, add mixed greens, diced roasted squash, diced Asian pear, dried cranberries and vinaigrette.
Toss until evenly coated.
Evenly divide among 4 bowls, making sure that all ingredients are visible.
Evenly divide flaked salmon, and place on of greens and in center of salad.
Serve with 2 pita wedges.
To Grill Salmon:
Place salmon presentation side down on hot grill.
Cook for 3 to 5 minutes. Turn over. Cook for another 3 to 5 minutes or until well-marked and cooked through. NOTE: If using salmon with skin, remove salmon from skin at this time.
Allow to cool slightly. Flake salmon into large chunks.
Nutrition Facts: Calories: 340, Carbs: 44g, Protein: 18g, Fat: 11g, Sat. Fat: 0g, Cholesterol: 37mg, Sodium: 260mg, Fiber: 8g