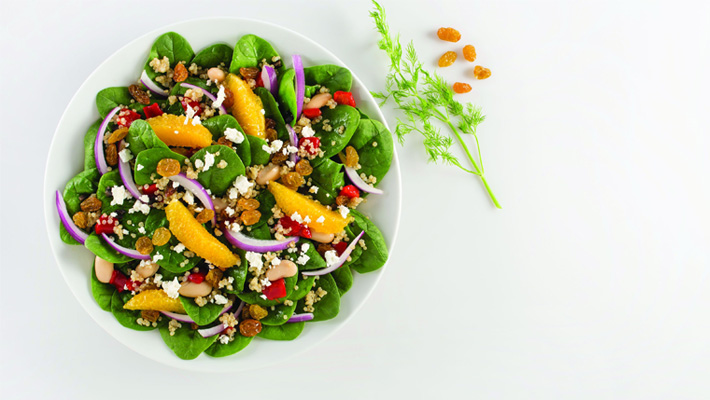 Baby spinach salad tossed with Quinoa, white beans, raisins, oranges and feta cheese
Print
Follow Our Recipe
Prep Time: 30 minutes|Cook time: 27 minutes|Yield: 4 servings
Ingredients
¼ cup sliced black olives
¼ cup red onions, halved lengthwise, sliced 1/4 inch
1 cup cannellini beans, canned rinsed and drained
12 cups baby spinach
¼ cup golden raisins
½ cup fresh orange sections
¼ cup feta cheese crumbled
Cooked Quinoa
Ingredients
½ cup white quinoa
1 cup water
Roasted Red Peppers
Ingredients
1 cup red peppers, diced 1½-inch
Orange Balsamic Salad Dressing
Ingredients
¼ cup white balsamic vinegar
2 tablespoons fresh orange juice
2 teaspoons olive oil
1½ tablespoon fresh dill weed
2 teaspoons fresh basil leaves
2 teaspoons sugar
Cooked Quinoa: In a medium sauce pan, bring water to a boil. Add quinoa. Stir to combine. Return to a boil. Cover. Reduce heat and simmer for 10 minutes or until water is fully absorbed and quinoa is al dente, but completely cooked. Do not stir. Let quinoa set for 5 minutes. Fluff with a fork.
Roasted Red Peppers: Coat sheep pan with vegetable oil spray. Place peppers on a sheet pan in a single layer. Do not overcrowd.
Roast in a preheated 425 degree oven for 5 to 7 minutes or until softened and light golden.
Orange Balsamic Dressing: Wisk ingredients together until well combined.
Salad Preparation: Combine quinoa, peppers, olives, onions, beans, spinach, raisins, orange segments and salad dressing. Toss to evenly coat.
Top salad with feta cheese.
Nutrition Facts: Calories: 317, Carbs: 53g, Protein: 12g, Fat: 8g, Sat. Fat: 3g, Cholesterol: 13mg, Sodium: 332mg, Fiber: 8g