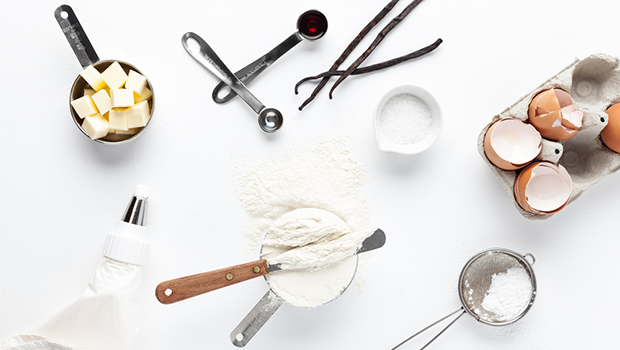 With these simple ingredient swaps even the most decadent desserts can become everyday treats.
So you're a sucker for sweets. It's OK. We've got good news on the dessert front: You can still have your cake and eat it too, without packing on pounds. "You can make easy substitutions to save calories without sacrificing taste," says Molly Morgan, a New York–based registered dietitian and author of Skinny-Size It and The Skinny Rules.
What follows are five ingredient tradeoffs that trim calories and pump up the health quotient.
Traditional Ingredient: All-purpose flour
Smart Swap: Use equal parts white whole wheat and whole wheat flour.
The Payoff: You'll gain roughly 10 grams of fiber for each cup of white whole wheat or whole wheat flour used. There are a host of reasons to get more fiber in your daily diet, says Morgan. Two biggies are that it helps support a healthy heart and it keeps you satisfied longer, which is important for anyone who's keeping a close eye on the scale.
Traditional Ingredient: Sugar
Smart Swap: Cut the sugar by half and add a half-cup of crushed pineapple, drained. This works especially well in quick breads and muffins, Morgan says.
The Payoff: For each half-cup of sugar you cut, you'll nix 24 teaspoons of sugar—a whopping 390 calories—and 100 grams of carbohydrates coming from added sugar.
Traditional Ingredient: Oil
Smart Swap: Eliminate half the oil and use unsweetened applesauce in its place.
The Payoff: For each half-cup of oil you remove, you save about 904 calories versus applesauce, which contains only 52 calories per half-cup.
Traditional Ingredient: Butter
Smart Swap: Slash half the butter from your recipe; instead, use equal parts prune puree (you can find this in the baking aisle of grocery stores).
The Payoff: Because prune puree is fat-free, you'll save 92 grams of fat for every half-cup of butter removed. This is also a good way to sneak in more beneficial fiber.
Traditional Ingredient: Egg
Smart Swap: Swap out one whole egg for two egg whites.
The Payoff: You'll nix a whopping 368 grams of cholesterol and 4 grams of fat.