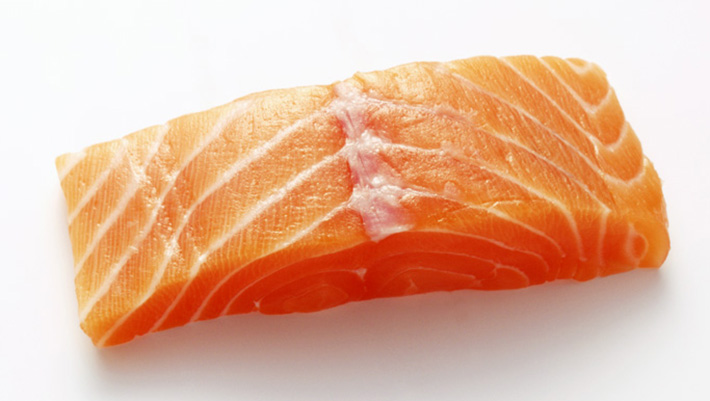 This hearty salad platter is packed with good-for-you fats and heart-healthy omega-3s, thanks to the salmon. Salad greens give it plenty of crunch, and the zesty low-fat buttermilk dressing is so good that you'll never believe it's guilt-free.
Print
Follow Our Recipe
Ingredients
1 pound boneless, skinless salmon fillets
4 teaspoons honey
2 teaspoons whole grain Dijon mustard
1 tablespoon extra virgin olive oil
1 tablespoon minced fresh dill
1/4 teaspoon salt
Pinch of ground black pepper
1/4 cup light mayonnaise
3 tablespoons low-fat buttermilk
1 teaspoon cider vinegar
1 teaspoon low-sodium seasoned salt
1 clove garlic, minced
1/2 teaspoon onion powder
1/4 teaspoon ground black pepper
1/2 small head romaine lettuce, coarsely chopped
6 ounces baby lettuce greens
1 1/4 cups shredded carrots
1/2 pint grape tomatoes, halved
Preheat oven to 375 degrees F. Preheat a baking sheet in oven.
Coat a large piece of foil with cooking spray. Set salmon on foil. Combine honey, mustard, olive oil, dill, salt, and pepper in a small bowl. Spread over salmon and transfer to the hot baking sheet, using foil as handles.
Roast until fish is still filmy and slightly moist in center, 10 to 15 minutes. Remove and let cool slightly.
Meanwhile, whisk together mayonnaise, buttermilk, vinegar, seasoned salt, garlic, onion powder, and pepper in large bowl. Add romaine, greens, and carrots, tossing to coat.
Divide salad among plates and scatter on tomatoes. Using tongs, break up fish into bite-size chunks and arrange over each salad.
Nutrition Facts: Calories: 214, Carbs: 12g, Protein: 17g, Fat: 11g, Sat. Fat: 2g, Sodium: 504mg, Fiber: 3g