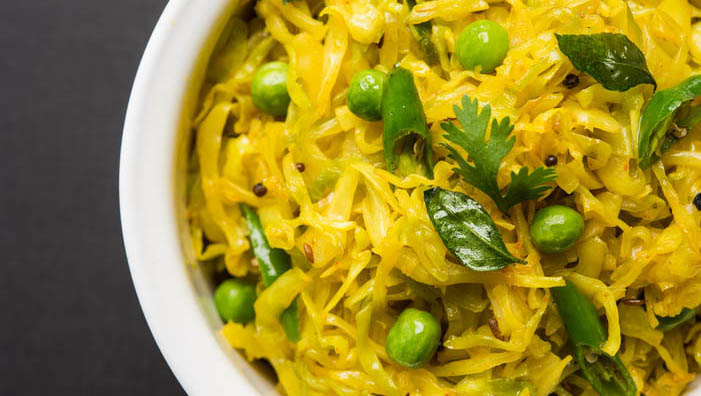 Curried Crunchy Cabbage seasoned with curry powder, turmeric, and caraway seeds.
Print
Follow Our Recipe
Prep Time: 5 minutes|Cook time: 10 minutes|Yield: 6 Serving Size: 6
Ingredients
1 tablespoon olive oil
1 bag (14 ounces) coleslaw mix
½ teaspoon salt
½ teaspoon turmeric
1 teaspoon curry powder
½ teaspoon caraway or dill seeds
¼ cup frozen peas
In a large skillet, heat the oil over medium heat.
Add the coleslaw mix, salt, turmeric, curry powder and caraway seeds.
Gently toss to coat the coleslaw mix with the spices.
Cook until the cabbage becomes tender but is still crunchy, about 5 to 7 minutes, stirring frequently to prevent sticking. Stir in the frozen peas, and heat until the peas are warm, about 3 minutes.
Nutrition Facts: Calories: 70, Carbs: 7g, Protein: 2g, Fat: 3.5g, Sat. Fat: 0.5g, Cholesterol: 0 , Sodium: 184mg, Fiber: 3g