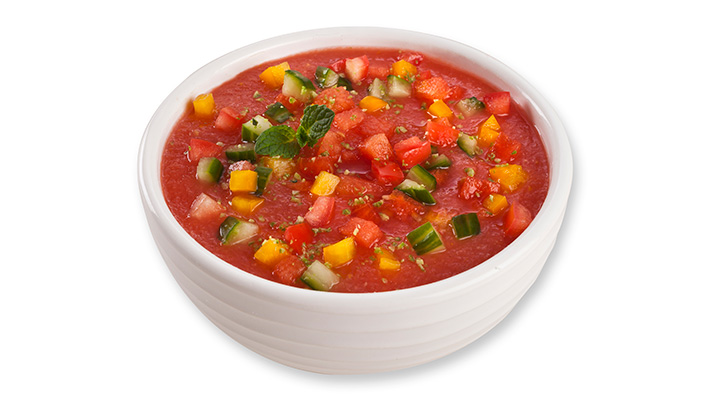 Print
Follow Our Recipe
Serving Size: 1 cup (8 fl oz)
Ingredients
1½ pounds plum tomatoes, fresh, peeled and cored
¼ cup yellow peppers, fresh, chopped
1 pound seedless watermelon, chopped
1¾ tablespoons red onions, fresh, chopped
1½ tablespoons garlic, fresh, minced
⅔ cup red vine vinegar
¼ cup olive oil
¼ cup fresh lime juice
¼ teaspoon kosher salt
¼ teaspoon ground black pepper
3 tablespoons seedless watermelon, diced ¼ʺ
⅓ cup water
⅓ cup apple cider vinegar
¼ teaspoon ground cloves
2 cinnamon sticks
¾ teaspoon granulated sugar
¼ teaspoon ground mustard, dry
2 tablespoons plum tomatoes, fresh, diced ¼ʺ
2 tablespoons yellow peppers, fresh, diced ¼ʺ
2 tablespoons cucumbers, fresh, diced ¼ʺ
¾ teaspoon mint leaves, fresh, chopped fine
¾ teaspoon fresh grated lime rind
In a large non-reactive container, combine first listed tomatoes, first listed yellow peppers, first listed watermelon, red onions, garlic, red wine vinegar, olive oil, lime juice, salt and pepper. Cover and hold overnight in refrigerator.
On day you're serving, pickle second listed watermelon by combining with water, cider vinegar, cloves, cinnamon sticks, sugar and ground mustard. Cover and hold refrigerated for 1 hour before use.
Puree first listed marinated ingredients in a blender or food mill.
Drain pickled watermelon. Add to pureed soup mixture, along with second listed tomatoes, second listed yellow peppers, cucumbers, mint and lime zest.
Chill soup thoroughly before serving. Serve in chilled soup cups or soup bowls.
Nutrition Facts: Calories: 100, Carbs: 14g, Protein: 2g, Fat: 4.5g, Sat. Fat: 0.5g, Sodium: 65mg, Fiber: 2g