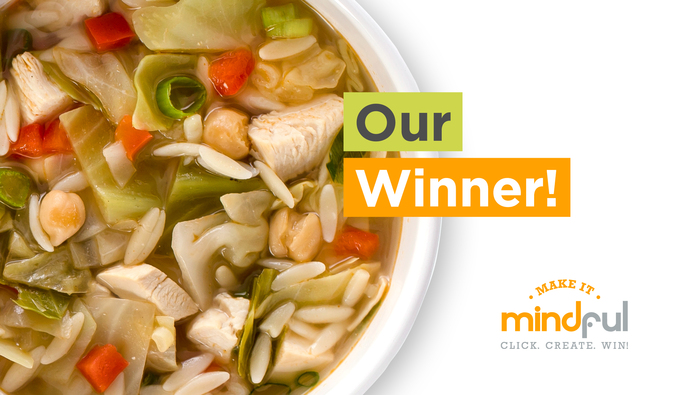 The winner of the Make It Mindful soup contest is Shawn's 3 Cs (Chicken, Cabbage & Chickpea) Soup. It's a Mediterranean spin on classic chicken noodle soup that features tender chunks of chicken, cabbage, onions and spices simmered in a rich chicken stock. The wonderful flavors come together for spoonful after spoonful of pure delight.
Prep Time: 15 min
Cook Time: 40 min
Yield: 4 (8 ounce) servings
Print
Follow Our Recipe
Ingredients
2 cups low sodium chicken stock
2 ounces poached chicken breast, diced 1/2 inch
1 cup orzo, cooked according to package directions
1/4 teaspoon canola oil
1 1/2 tablespoons yellow onion, diced 1/4 inch
1 3/4 teaspoons green onions, white only, sliced very thin
1 3/4 cups ounces green cabbage, chopped coarse
1/2 cup red peppers, diced 1/4 inch
1/4 teaspoon kosher salt
1/4 cup low sodium garbanzo beans (chickpea), canned, rinsed and drained
1/8 teaspoon ground black pepper
1/8 teaspoon cayenne pepper
1/2 teaspoon ground coriander
1/2 ground mustard, dry
1/2 teaspoon onion powder
1/2 teaspoon garlic powder
1/2 teaspoon apple cider vinegar
1 1/2 teaspoons green onion, green only, sliced
Soup Preparation:
In a stock pot, heat oil over medium-high heat. Add onion and first listed green onions, cook for 4 to 5 minutes or until onions are translucent. Add cabbage, red pepper and salt, stir to combine. Cook for 5 minutes or until cabbage is reduced by half. Add hot stock, chicken, beans, black pepper, cayenne pepper, coriander, ground mustard, granulated onion, granulated garlic and vinegar. Bring to a boil. Stir in orzo and second listed green onions. Simmer until heated through.
For Service:
Ladle 8 ounces into a bowl.
Nutrition Facts: Calories: 90, Carbs: 13g, Protein: 6g, Fat: 1.5g, Sat. Fat: 1g, Cholesterol: 20mg, Sodium: 240mg, Fiber: 3g