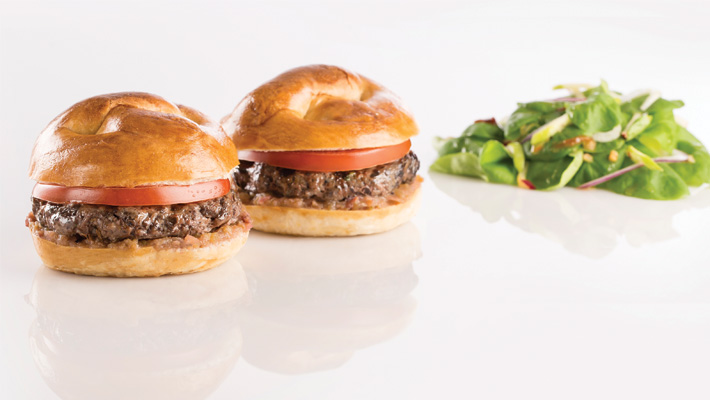 Mini beef and mushroom burgers topped with roma tomato and roasted grape and jalapeno jam on pretzel rolls. Served with watercress fennel salad.
Print
Follow Our Recipe
Prep Time: 25 minutes|Cook time: 20 minutes|Yield: 4 Portions
Ingredients
8 slices plum tomato, sliced ¼ inch
8 small pretzel rolls (about 1 ½ ounces per roll)
Roasted Grape and Jalapeno Jam
Prepare a day or two ahead
Ingredients
1 jalapeno pepper, halved, seeds removed
1/3 cup red seedless grapes (about 10-12 grapes)
1 wholehole garlic, peeled
2½ teaspoons shallots, sliced
Pinch Kosher salt
¼ teaspoon canola olive oil
2 tablespoons fresh squeezed orange juice (not from concentrate)
1½ teaspoons apple cider vinegar
½ teaspoon honey
Orange Chipotle Vinaigrette
Can be prepared a day or two ahead
Ingredients
1½ teaspoons orange marmalade
½ teaspoon chipotle pepper in adobo sauce, minced fine
¼ teaspoon clove fresh garlic, minced
¼ teaspoon shallots, chopped
1½ tablespoons fresh squeezed orange juice (not from concentrate)
2 teaspoons unseasoned rice vinegar
½ teaspoon honey
Pinch black pepper
1 tsp extra virgin olive oil
Beef and Portobello Burger

Can be prepared a day ahead
Ingredients
7 ounces lean ground beef
2 portobello mushrooms, chopped fine (about 1½ cups)
1 teaspoon whole garlic, minced
2 teaspoons fresh cilantro, chopped
½ teaspoon onion powder
½ teaspoon dry ground mustard
¼ teaspoon Kosher salt
¼ teaspoon black pepper
Watercress and Fennel Salad
Ingredients
3 cups watercress (packed)
6 tablespoons fresh fennel, shaved
4 tablespoons red onions, sliced thin
4 tablespoons Granny Smith apples, julienne
4 tablespoons red delicious apples, julienne
3 tablespoons orange chipotle vinaigrette (recipe above)
Instructions
Roasted Grape and Tomato Jam: In a small bowl combine jalapeno pepper halves, grapes, shallots, garlic clove, salt and oil. Toss to coat well. Place mixture, in single layer, onto a cookie sheet. Roast at 400°F for 10 to 12 minutes. Remove from oven.
2. In a sauce pot combine roasted vegetable mixture, orange juice, vinegar and honey. Simmer for 5 minutes.
Place mixture into a food processor or blender and process until smooth.
Refrigerate jam overnight to allow flavors to blend and mixture to thicken.
Orange Chipotle Vinaigrette: In a bowl or blender combine all the ingredients EXCEPT for the olive oil. Blend well. Slowly whisk or stream in oil and mix well.
Watercress and Fennel Salad: In a large bowl combine watercress, fennel, red onions and both apples. At service time add chipotle orange vinaigrette and toss well to coat. Serve 1 cup per person.
Slider Assembly and Service: In a preheat non-stick skillet or well-oiled grill place slider patties. Cook for 2 minutes on each side or until desired doneness.
Lightly toast pretzel rolls.
For each slider, spread 1 teaspoon roasted grape and jalapeno jam on heel of roll. Top with 1 cooked slider patty and 1 slice plum tomato.
Spread another 1 teaspoon jam on crown of roll and place on sandwich to close.
Serve 2 sliders and 1 cup watercress and fennel salad per person.
Nutrition Facts: Calories: 102, Carbs: 1g, Protein: 16g Fat: 3g, Sat. fat: 50g, Cholesterol: 0mg, Sodium: 219mg, Fiber: 0g