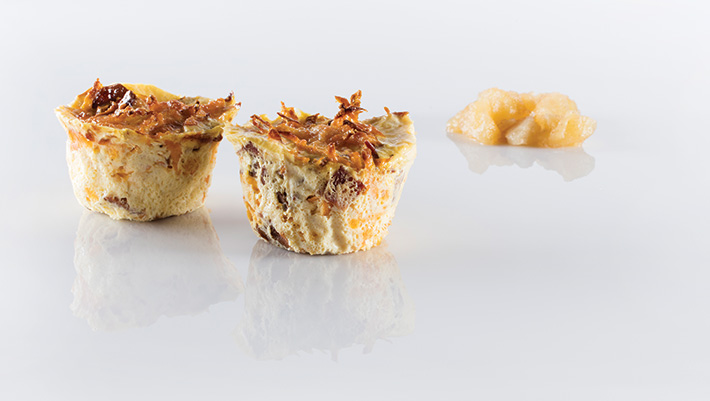 Fresh eggs blended with Greek yogurt baked in individual cups with turkey bacon, sweet potatoes and cheddar cheese, served with warm spiced apples
Print
Follow Our Recipe
Prep Time: 15 min|Cook time: 1 hour 2 min|Yield: 1 serving
Ingredients
2 individual turkey bacon quichelettes, hot
1/2 cup spiced apple compote
Custard For Quichelettes
Ingredients
1/2 cup no cholesterol/fat liquid egg substitute
2 tablespoons fat free milk
2 tablespoons non fat plain Greek yogurt
dash (to taste) kosher salt
dash (to taste) ground black pepper
Individual Turkey Bacon Quichelettes
Ingredients
3/4 cup custard for quichelettes
1 ounce cooked turkey bacon, chopped
1 tablespoon shredded cheddar cheese
1 teaspoon grated parmesan cheese
2 ounces sweet potatoes (yams), fresh, shredded
Spiced Apple Compote
Ingredients
4 1/4 ounces sliced apples, frozen
1/8 teaspoon pumpkin pie spice
1 1/4 teaspoons pure maple syrup
1 tablespoon + 1/2 teaspoon 100% apple juice
Custard For Quichelettes: In a bowl add all ingredients and whisk until combined.
Individual Turkey Bacon Quichelettes: Place 1/2 ounce chopped bacon into each 4 ounce mini muffin pan. Top with 1/2 tablespoon cheddar cheese and 1 ounce shredded potatoes. Ladle 3 ounces custard over ingredients, top custard with 1/2 teaspoon parmesan cheese. Bake in preheated 375 degree oven for 15-20 minutes or until set.
Spiced Apple Compote: Place all ingredients in a saucepan over medium heat. Simmer 25 to 30 minutes or until coarse applesauce consistency.
For Service: Place 2 quichelettes on a serving plate. Place 1/2 cup compote next to quichelettes.
Nutrition Facts: Calories: 260, Carbs: 33g, Protein: 23g, Fat: 4g, Sat. Fat: 2g, Cholesterol: 30mg, Sodium: 630mg, Fiber: 3g