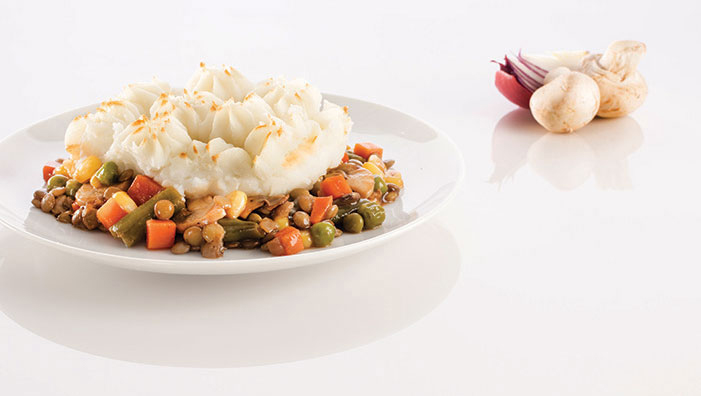 Green lentil, mushroom, onion, peas, corn & green beans in a vegan gravy topped with mashed potatoes; baked until golden
Print
Follow Our Recipe
Prep Time: 15 to 25 minutes|Cook time: 30 to 35 minutes|Yield: 6 servings
Ingredients
3/4 cup raw lentils
1 pound 14 oz peeled and cut up white potato
3/4 cup soy milk
6 Tablespoon vegan margarine
1 1/4 tsp kosher salt, divided
2 1/4 tsp canola oil
3/4 cup diced red onion
2 1/4 teaspoon minced garlic
3/4 cup peeled and diced carrots
4 cups sliced mushroom
3/4 cup frozen green peas
1/2 cup frozen green beans
1 cup frozen corn
1 1/2 teaspoon fresh thyme leaves
3/4 teaspoon ground black pepper
1 1/2 cup low sodium vegetable stock
5 teaspoon cornstarch
To cook lentils:
Cover lentils with water. Bring to a boil. Reduce heat, and simmer for 20 to 22 minutes or until lentils are tender. Drain any excess liquid.
To cook potatoes:
Cover potatoes with 1 inch of water. Boil for 15 to 20 minutes or until completely tender. Drain well.
Mash potatoes in a large bowl until no lumps remain. Beat in soy milk in small amounts, beating after each addition. Add margarine and 1/2 teaspoon salt. Beat vigorously until potatoes are light and fluffy.
To make Lentil Shepherd's Pie:
While potatoes are cooking, heat oil in a large saute pan over medium heat. Add onion. Saute for 2 minutes or until slightly softened.
Add garlic. Saute for 30 seconds or until fragrant.
Add carrots. Saute until bright orange color.
Add mushroom. Cook for 6 to 8 minutes or until dry.
Add peas, green beans, corn, thyme, pepper and 3/4 tsp salt. Stir to combine. Cook for 1 minute.
Combine cornstarch and low sodium stock until well dissolved. Add to vegetables. Cook until slightly thickened.
Place vegetable mixture into a 9 x 13 baking dish.
Top with lentils. Spread out evenly.
Top with mashed potatoes. Using a spatula, smooth out potatoes.
NOTE: For a more upscale presentation, place potatoes in a piping bag fitted with a large star tip. Pipe rosettes over entire mixture.
Bake in a preheated 350 degree F. oven for 30 to 35 minutes or until heated through, bubbly and potatoes are browned.
Let rest for 10 to 15 minutes prior to cutting.
Cut into 6 even pieces, and serve.
Nutrition Facts: Calories: 360, Carbs: 53g, Protein: 11g, Fat: 12g, Sat. Fat: 3g, Cholesterol: 0mg, Sodium: 494mg, Fiber: 8g