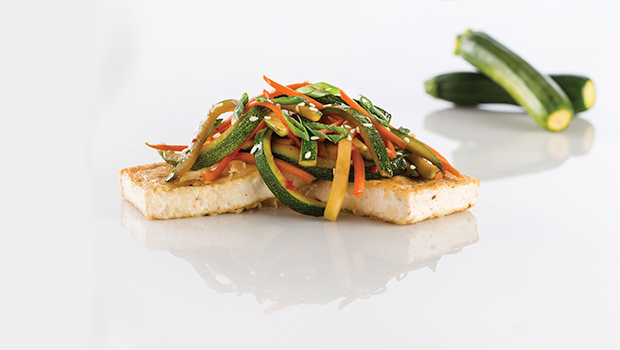 Print
Follow Our Recipe
Ingredients
1 lb. firm tofu, cut into 8 slices
2 Tbsp. all-purpose flour
2 Tbsp. canola oil
½ lb. carrots, peeled and cut into julienne strips
½ lb. zucchini, cut into julienne strips
2 tsp. finely chopped jalapeño peppers
½ cup reduced-sodium soy sauce
4 tsp. Chinese sesame seed oil
1 tsp. water
¼ cup thinly sliced green onions
1 tsp. sesame seeds, toasted
Coat tofu slices lightly in flour.
Heat oil in large skillet on medium-high heat. Add tofu slices; cook 1 minute on each side. Remove from pan. Keep warm while cooking vegetables.
Stir-fry carrots, zucchini and jalapeño pepper in same skillet 5 minutes or just until tender-crisp. Add soy sauce, sesame oil and water; stir-fry 1 minute longer or until sauce thickens slightly.
Place on a plate.
Place 2 tofu slices on each serving plate. Spoon about ½ cup vegetables with sauce over tofu slices. Garnish each serving with 1 tbsp. green onion and ¼ tsp. sesame seeds.
Nutrition Facts: Calories: 180, Carbs: 10g, Protein: 10g, Fat: 12g, Sat. Fat: 1.5g, Sodium: 150mg, Fiber: 4g