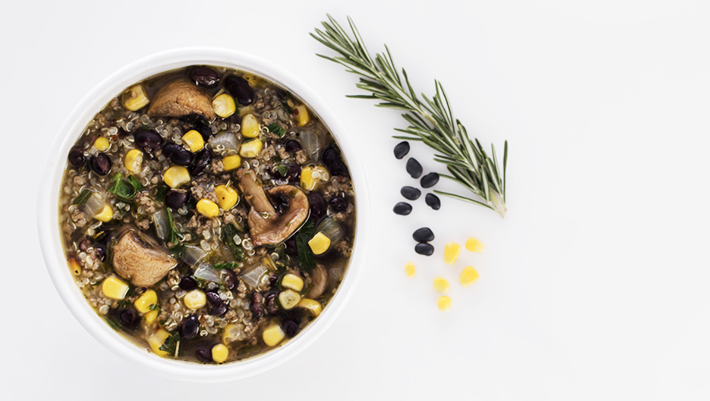 Quinoa, vegetable stock, beef burger, black beans, corn, roasted garlic basil pesto and lime juice
Print
Follow Our Recipe
Prep Time: 15 min|Cook time: 40 min|Yield: 4 (8 ounce) servings
Ingredients
2 3/4 cups low sodium vegetable stock
1 teaspoon roasted garlic basil pesto spread
1 teaspoon lime juice
(2) 3/4 cups quinoa cooked according to package directions
3/4 cup mushrooms, quartered
1/2 cup frozen corn
1/8 teaspoon extra virgin olive oil
1/2 teaspoon dried rosemary, crushed in hand
1/8 teaspoon dried sage leaves
1/8 teaspoon dried basil, ground
1/8 teaspoon crushed red pepper flakes, dried
7 ounces lean ground beef
1 tablespoon yellow onion, diced 1/4 inch
1/4 cup low sodium black beans, canned, rinsed and drained
1/2 teaspoon kosher salt
(1) 1/2 teaspoons Italian parsley leaves, chopped coarse
Roasted Garlic Basil Pesto
Ingredients
1/4 teaspoon dry roasted garlic cloves
1/8 teaspoon lemon juice
(1) 1/2 teaspoons basil leaves, chopped coarse
dash kosher salt
dash crushed red pepper flakes, dried
dash olive oil
1/4 teaspoon water
Roasted Garlic Basil Pesto:
Place all ingredients in a food processor or blender. Process until smooth puree.
Soup Preparation:
Combine mushrooms, corn, oil, rosemary, sage, basil and crushed red peppers. Toss until evenly coated. Line sheet pan with parchment paper. Coat with vegetable oil spray. Spread out mushroom and corn mixture in a single layer onto sheet pan. Do not over crowd. Roast in a preheated 450 degree oven for 10 minutes or until mushrooms and corn are browned. In a stock pot, add ground beef and brown until no longer pink. Drain off excess grease. Add onion, cook for 4 to 5 minutes or until soft. Add hot stock, roasted mushroom and corn mixture, beans, roasted garlic basil pesto, salt, lime juice and parsley. Bring to a boil. Reduce heat and simmer. Stir in quinoa, simmer until heated through.
For Service:
Ladle 8 ounces into a bowl.
Nutrition Facts: Calories: 100, Carbs: 13g, Protein: 4g, Fat: 3g, Sat. Fat: 1g, Cholesterol: 5mg, Sodium: 300mg, Fiber: 2g