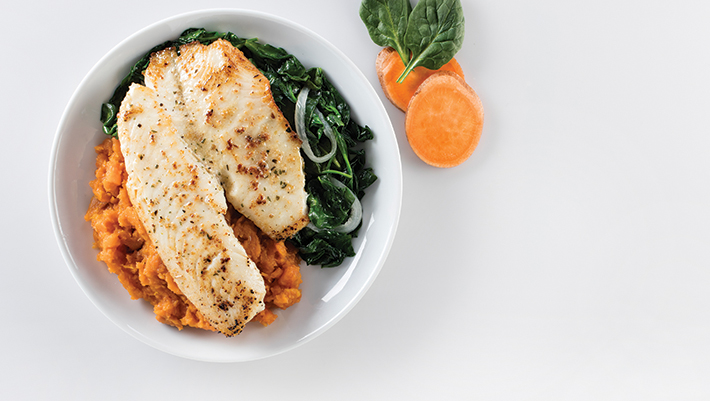 Grilled garlic and herb tilapia with maple mashed sweet potato and fresh spinach with onions
Print
Follow Our Recipe
Prep Time: 10 min|Cook time: 20 min|
Ingredients
1 pound mashed sweet potatoes with maple
1 1/2 cups sautéed spinach and onions
4 fillets grilled garlic and herb tilapia
Mashed Sweet Potatoes with Maple
Ingredients
1 pound sweet potatoes, peeled and diced 1/2 inch
2 tablespoons fat free milk
1/8 teaspoon kosher salt
2 tablespoons maple flavor pancake syrup
1 teaspoon vanilla extract
Sauteed Spinach and Onions
Ingredients
2 teaspoons olive oil
1/4 cup yellow onions, julienne
6 cups fresh spinach
1/2 teaspoon ground black pepper
Grilled Garlic and Herb Tilapia
Ingredients
4 fillets tilapia (3 to 5 ounce each)
1 teaspoon salt free garlic and herb seasoning
Mashed Sweet Potatoes with Maple: Place potatoes in boiling water. Cook for 10 minutes or until fork tender. Remove potatoes from heat, and drain in colander. Place potatoes in mixer bowl with paddle attachment. Mix slowly to break up potatoes. Add milk, salt, syrup and vanilla. Mix to combine until smooth.
Sauteed Spinach and Onions: In a sauté pan, heat over medium high heat. Add onions. Saute until caramelized. Add spinach. Season with pepper. Mix well and remove from heat. Stir until spinach just wilts.
Grilled Garlic and Herb Tilapia: Evenly sprinkle each fillet with 1/4 teaspoon seasoning. Place on preheated 350 degree griddle. Cook for 4 minutes. Flip and cook for 2 minutes more.
For Service: Place 1/4 cup potatoes and 1/3 cup spinach next to each other in center of plate. Top with 1 grilled fillet overlapping onto both vegetables.
Nutrition Facts: Calories: 300, Carbs: 30g, Protein: 26g, Fat: 5g, Sat. Fat: 1g, Cholesterol: 53mg, Sodium: 240mg, Fiber: 5g