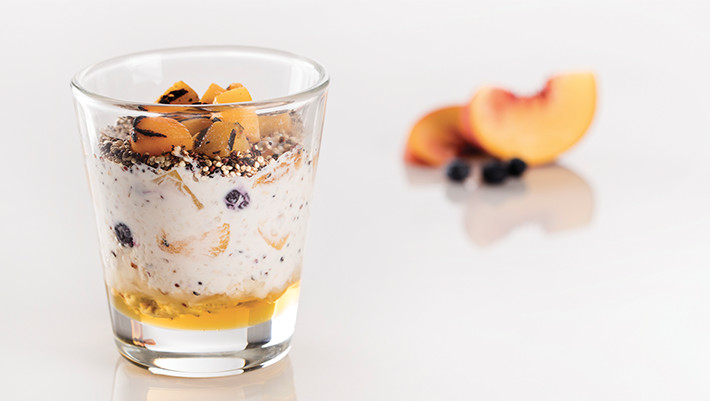 Vanilla Greek yogurt, tri-color quinoa and rolled oats, diced grilled peaches, fresh blueberries, crispy popped quinoa
Print
Follow Our Recipe
Prep Time: 15 min|Cook time: 10 min|Yield: 1 Parfait
Ingredients
3/4 cup peach blueberry and quinoa yogurt mix
2 teaspoons popped quinoa
1 tablespoon grilled diced peaches
1 tablespoon honey
Peach Blueberry and Quinoa Yogurt Mix
Ingredients
2 tablespoons tri-color quinoa, cold
1 1/4 ounces grilled diced peaches, cold
2 tablespoons quick oats
1/2 cup vanilla Greek yogurt
2 tablespoons blueberries frozen, thawed
3/8 teaspoon honey
Popped Quinoa
Ingredients
2 1/4 teaspoons tri-color quinoa, raw
Tri-Color Quinoa Cooked
Ingredients
1 tablespoon water
2 3/8 teaspoons tri-color quinoa, raw
Grilled Diced Peaches
Ingredients
1/2 ounce peach slices, unsweetened, frozen, thawed
Peach Blueberry and Quinoa Yogurt Mix: In a mixing bowl, combine all ingredients until well blended. Refrigerate for at least 2 hours before use.
Popped Quinoa: Heat a saucepan over medium high heat until surface is almost smoking. Add quinoa. Turn heat down to medium cover pot and shake it. Shaking pot ensures that quinoa won't burn. It also agitates the seeds, prompting them to pop.
Tri-Color Quinoa Cooked: In a pan steam, uncovered, for 5 minutes or until water is absorbed.
Grilled Diced Peaches: Heat grill to medium. Lightly spray both sides of peach slices with vegetable oil spray. Place on grill and cook 2 minutes per side or until charred and softened. Remove from grill, and dice into 1/4 inch pieces.
For Service: In a cup, place 1 tablespoon honey, 3/4 cup yogurt mixture, 2 teaspoons popped quinoa and 1 tablespoon peaches. Chill and serve.
Nutrition Facts: Calories: 290, Carbs: 59mg, Protein: 13g, Fat: 2g, Sat. Fat: 0g, Cholesterol: 6mg, Sodium: 40mg, Fiber: 3g