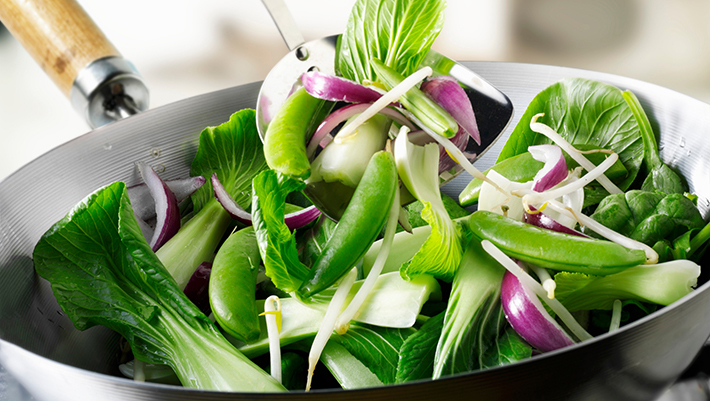 This Thai-inspired entrée is packed with lean protein , thanks to the shrimp. A zesty pesto sauce adds a punch of unexpected flavor.
Print
Follow Our Recipe
Ingredients
Asian Pesto1/2 cup packed basil leaves and small stems, preferably Thai
1/2 cup packed cilantro leaves and small stems
1/3 cup packed mint leaves and small stems
1/4 cup roasted unsalted peanuts
2 cloves garlic
1 1/2 teaspoons peeled, chopped fresh ginger
1 1/2 tablespoons fish sauce
1 1/2 tablespoons peanut oil or canola oil
Zest and juice of 1/2 small lime, plus 6 lime wedges for serving
2 teaspoons sugar
1/4 teaspoon red pepper flakes 1/4 teaspoon salt
Stir-Fry 1 1/2 teaspoons sesame seeds
1 tablespoon peanut oil or canola oil
12 ounces medium raw shrimp, peeled and deveined
8 ounces asparagus, cut in 1-inch pieces
1 red bell pepper, cut into 1-inch strips
1 teaspoon toasted sesame oil
For Asian Pesto, process all ingredients in blender until relatively smooth, 1 minute (mixture will be thick).
For stir-fry, toast sesame seeds in dry deep heavy sauté pan or wok over medium heat until fragrant, 2 to 3 minutes, shaking pan occasionally to prevent burning. Remove from pan and set aside.
Heat same pan over high heat. When smoking, add peanut oil, swirling to coat. Add shrimp and cook until bright pink all over, 1 to 2 minutes. Add asparagus, bell pepper, and toasted sesame oil, tossing to coat, 1 minute. Add pesto and cook until shrimp are cooked through and glazed with sauce, about 30 seconds. Serve with lime wedges.
Nutrition Facts: Calories: 170, Carbs: 9g, Protein: 11g, Fat: 11g, Sat. Fat: 2g, Sodium: 777mg, Fiber: 3g