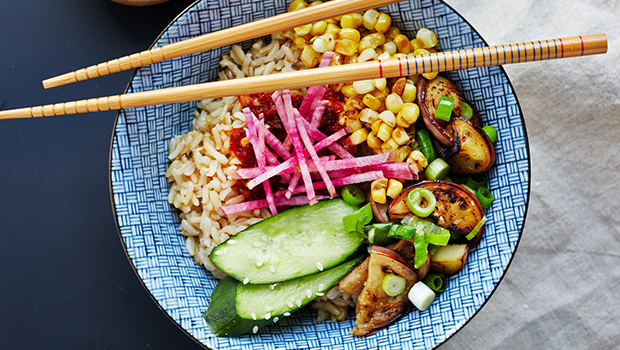 This hearty and satisfying rice bowl is an easy weeknight dinner that delivers big flavor. It's packed with heart-healthy fiber (thanks, brown rice!) and plenty of veggies, and is topped off with a so-good-it's-addictive Asian-style dressing.
Tip: We love the unique, nutty flavor of sesame oil for this dressing, but if you don't have any in your pantry, simply increase the canola oil to three tablespoons.
Print
Follow Our Recipe
Rice Bowl
Ingredients
1 ½ cups uncooked brown rice
3 ¼ cups water
1 English cucumber, halved and sliced
1 cup julienned or sliced radishes
¼ cup sliced scallions
1 teaspoon canola oil
2 medium yellow squash or zucchini, halved and thinly sliced
¼ teaspoon salt
2 cups frozen corn, thawed
Dressing
Ingredients
2 teaspoons sesame seeds
2 teaspoons honey
1 tablespoon low-sodium soy sauce
1 tablespoon sesame oil
2 tablespoons canola oil
Add rice and water to medium pot and bring to boil over high heat. Cover with lid, and reduce heat to low. Simmer rice until water is absorbed, about 35 to 45 minutes, depending on package directions. Remove from heat and let cool.
Meanwhile, make dressing by combining all dressing ingredients in bowl and whisking together with fork.
Prepare cucumber, radishes, and scallions; set aside. In small sauté pan, warm canola oil over medium-high heat and sauté squash or zucchini, stirring constantly, until soft, 8 to 10 minutes. Season with salt and set aside. Reuse sauté pan to warm corn, stirring constantly until warm, about 3 minutes.
Add rice to each of 4 bowls and divide all vegetables evenly between each bowl on top of rice. Drizzle dressing over each bowl (about 1 tablespoon dressing per bowl). Serve.
Nutrition Facts: Grams per
serving: 533, Calories: 460, Carbs: 72 g, Protein: 13 g, Fat: 15 g, Sat. Fat: 1 g, Sodium: 250 mg, Fiber: 7 g