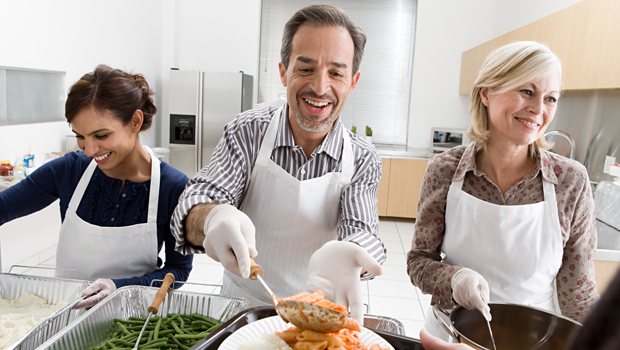 Most of us would love to give back, but knowing where to start (or how to find the time) isn't always obvious. Here are three simple words that can help.
They live longer and have lower rates of depression. Who? People who volunteer, giving back to their community. Almost all of us want a meaningful and beneficial activity. Problem is, we're all busy, and at first it seems hard to know what to do and to find time to do it. But in the end it comes down to three simple factors: passion, need, and time. Figure out these three things and before you know it, your community (and your own body and spirit) will be reaping the benefits of your good work.
Passion: Follow your heart.
Start with a cause, person, or group of people that you care about. Sally Cannon, of Hoboken, New Jersey, for example, has always had a soft spot for the homeless. She, her son, and another friend recently set aside an evening to help a local group assemble and hand out winter gear and meal packages at various shelters. Animal lovers, meanwhile, can reach out to the local chapter of the American Society for the Prevention of Cruelty to Animals or the Humane Society of the United States to walk, play, and help care for the animals. Want to work with kids? Consider enrolling in a literacy-training program or registering with Big Brothers Big Sisters of America, or contact Head Start. Nursing homes can always use extra help from caring individuals if you want to assist with the elderly. You likely have more than one cause that's near and dear to you. Pick just one to focus on and start researching the many ways volunteers are needed in that area.
Need: Go where you're needed most.
If you're not exactly sure what you want to do,   check with your local community center or your company's human resources office, or ask friends about the causes they're involved with. Pamela Schwartz, of Seattle, found her way to give back during lunch with a friend. "At the time my very good friend was on the regional board of the Anti-Defamation League, and while talking I realized that my values really aligned with the organization," she says. Since then, Schwartz has worked with the ADL and makes a point to carve out time in her busy schedule to contribute. The Internet is another great resource for finding local opportunities. Volunteermatch.org, idealist.org, and handsonnetwork.org are three websites you can visit to find out where local volunteers are needed. Simply type in your location and a keyword for what you want to do.
Time: Determine your availability.
Before you reach out, however, first look at your current workload and family responsibilities to figure out how many hours per week or month you can commit, so you don't overextend yourself. Be realistic with your time. Organizations need volunteers they can rely on, and you won't enjoy the experience if you're juggling too many expectations.