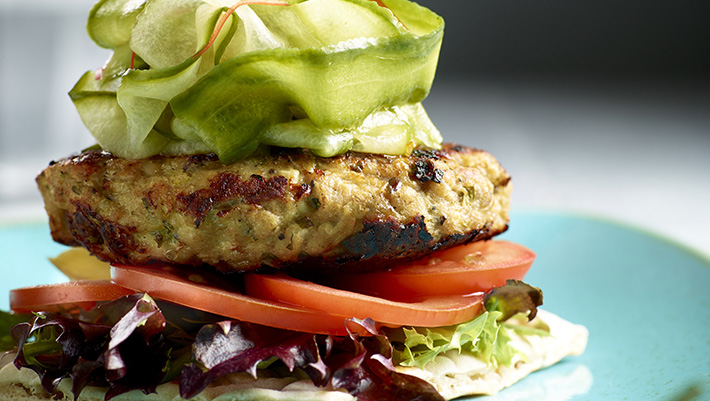 Print
Follow Our Recipe
Ingredients
400g Fresh Turkey Mince
10g Fresh Wholemeal
Breadcrumbs
120g Diced Onion
4g Chopped Parsley
1g Cumin (a good pinch)
12ml Worcester Sauce
1 Egg
A few turns of Black Pepper
4 Plum Tomatoes sliced
4 Portions of Pickled Cucumber (see recipe)
4 Brown Rolls or Rye Artic Bread
80g Mixed Salad Leaves washed & drained.
Place the turkey, breadcrumbs, eggs, onions, chopped parsley, cumin, seasoning and Worcester sauce in a mixing bowl then work together until well combined.
Let the mixture rest for about 30-40 minutes in the fridge then divide in to the required portions
Place the turkey burgers on to a lined tray and cook in an oven set at 180c for about 20 minutes, turning halfway, or until fully cooked.
While they are cooking prepare the other burger ingredients
Halve the rolls or Arctic Bread and toast or grill.
Build your burger using the bottom half of the bread/roll then add the lettuce topped with the sliced tomato, followed by the burger and finally the pickled cucumber. Finish with the other half of the roll.
Pickled Cucumber
Ingredients
1 Cucumber
80ml Rice Wine or White Wine Vinegar
10g Caster Sugar
2g Red Chillies
Finely dice the chilli Very thinly slice the cucumber.
Place the sugar and vinegar into a saucepan and gently heat until the sugar has dissolved then add the chilli. Remove from the heat and allow to cool completely.
Add cucumber to the vinegar then cover and chill for at least one hour.