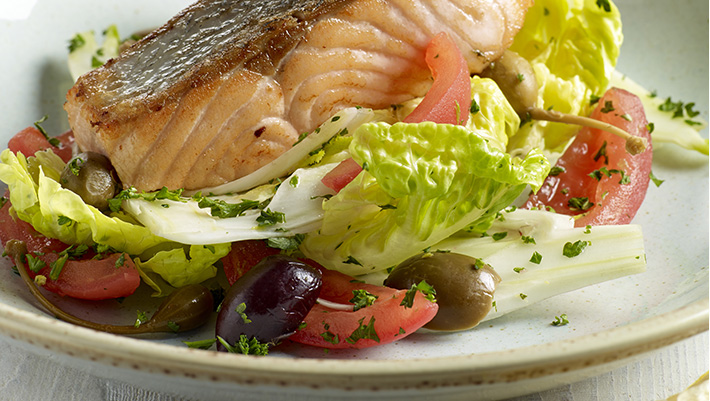 Print
Follow Our Recipe
Ingredients
4x100g Skinned Salmon Fillet
320g Fennel
400g Plum Tomatoes
1 Lemon
10ml Olive Oil
40g of Olives
12g Caper Berries
4ml Oil
8g Parsley
300g Little Gem Lettuce
Instructions
Blanch the tomatoes in boiling water for 8 seconds, refresh under cold running water for twenty seconds and then carefully remove the skin. To make this easier you can make a small cross using the tip of a sharp knife in the bottom of the tomato before blanching. Cut each tomato in to eight wedges.
Trim the fennel, and then very thinly slice using a mandolin or sharp knife. Put the slices into some iced water to keep them crisp. Wash the parsley then lightly shred. Wash the lettuce, remove the hard base and cut into four or six wedges. Zest and juice the lemon.
In a big enough bowl add the olive oil, lemon zest and juice, tomato wedges, drained fennel slices, olives, capers, little gem wedges and the chopped parsley and lightly mix together. Do this just before you cook the salmon so the salad remains crisp.
Rub the oil in to the salmon fillets and season with black pepper. Heat up a non-stick frying pan and carefully place in the fillets, cook for about 3minutes on each side , then check the salmon is cooked.
Serve in a suitable bowl or plate with the salad on the bottom & topped with the salmon.