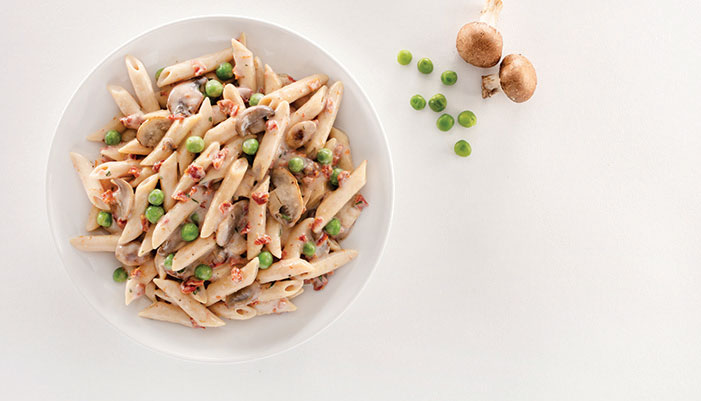 Lentil penne, sundried tomato, peas & mushroom in a vegan béchamel sauce topped with freshly ground pepper & parsley
Print
Follow Our Recipe
Prep Time: 30 to 35 minutes|Cook time: 3 to 5 minutes|Yield: 4 servings
White sauce:
Ingredients
1 Tbsp canola oil
2 teaspoon finely chopped shallots
1/4 cup flour
3/4 cup unsweetened almond milk
3/4 cup low sodium vegetable stock
1/16 teaspoon ground nutmeg
1/8 teaspoon kosher salt
1/8 teaspoon ground black pepper
1/16 teaspoon granulated garlic
1/16 teaspoon granulated onion
3/4 cup shredded dairy free mozzarella cheese (So Delicious brand was used in the testing of this recipe.)
12 oz uncooked lentil pasta
Penne alla Carbonara:
Ingredients
4 teaspoon canola oil
1 3/4 cup sliced mushroom
4 oz finely chopped sun-dried tomato
1 1/8 cup frozen green peas, thawed
1/2 teaspoon ground black pepper
1 Tablespoon chopped fresh Italian parsley
3 Tbsp hot pasta water
To make sauce:
In a dutch oven or large skillet, heat oil over medium-high heat. Add shallots. Saute for 1 minute or until tender.
Add flour, and whisk vigorously until combined and mixture is smooth.
Reduce heat to low. Continue cooking for 4 to 5 minutes, whisking, until flour has lost its raw smell, but before any golden color or toasted aroma occurs.
Gradually whisk in almond milk and stock until smooth.
Stir in nutmeg, salt, pepper, granulated garlic and granulated onion.
Simmer gently, stirring frequently, for 15 to 20 minutes or until thickened and raw flour taste disappears.
Stir in cheese. Stir, often, for 8 to 10 minutes or until smooth.
To cook pasta:
While sauce is cooking, bring water to a full rolling boil. Add pasta to boiling water. Stir while returning to a brisk broil. Reduce heat. Simmer for 10 to 12 minutes or until just tender. Drain well, and use immediately. Reserve some pasta water to thicken carbonara.
To make Penne alla Carbonara:
When sauce and noodles are almost cooked, heat oil in a saute pan over medium heat.
Add sliced mushrooms. Saute for 1 to 2 minutes or until dry.
Add finely chopped sun-dried tomato, thawed peas, warm pasta, ground black pepper chopped parsley. Stir to combine.
Add warm bechamel sauce and reserved hot pasta water. Stir to combine until heated through, sauce is smooth and has a nice shine. Divide into four bowls. Serve immediately.
Nutrition Facts: Calories: 600, Carbs: 94g, Protein: 26g, Fat: 15g, Sat. Fat: 3g, Cholesterol: 0mg, Sodium: 318mg, Fiber: 12g