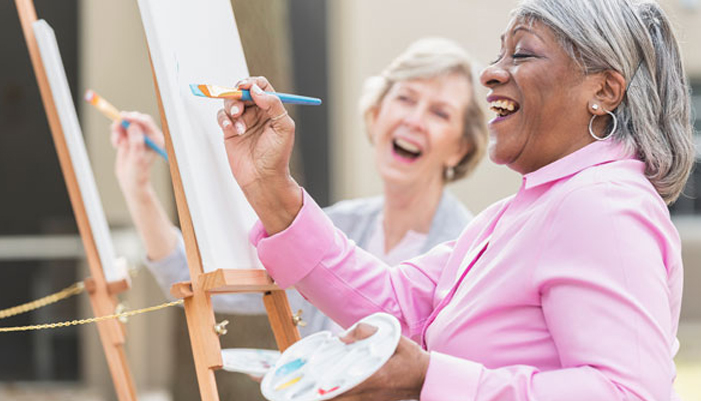 Picking up a hobby or skill can help you turn back the clock. Where do we sign up?
When we're young, we have no choice but to learn new things. As we hit our stride as adults, eh, not so much. Sure, there may be emerging job skills we need to stay on top of, but when was the last time you learned something new just for fun? It's hard to remember, right? For us too. That's because most of the time we're too busy to carve out space in our hectic schedules to take up a foreign language, teach ourselves how to build a shelf, or figure out how to edit our home videos.
But the incredible sense of accomplishment that comes from mastering a new challenge doesn't wane with age. In fact, mounting research has shown us that diving into the unknown has powerful benefits that can help us improve the way we age. One study, for example, found that older adults who were engaged in learning new skills had better improvements in memory compared with those who just participated in social activities or did less demanding mental tasks like crossword puzzles and word games.
For the most noticeable mental differences, researchers have said that the trick is to pursue interests that put your mental functions through some demanding scenarios. Activities like digital photography or quilting require more from your brain than those crosswords, and participants of those activities showed greater gains in a number of mental functions. But whether you take up a camera or ask a friend to teach you how to make his almost-famous lasagna, you're smart to seek ways of breaking out of your routine.
Meg Poulos wasn't part of the study, but her story is a great example. She was 50 years old when she decided she wanted to learn more about computers. The high school math teacher from Scituate, Massachusetts, simply didn't have the time to gain computer proficiency while working and raising a family. But once her kids were out of the house, she reversed her role and went back to college to get a certificate as a computer support specialist. "I loved every minute of it," she says. Now she helps her husband put together presentations, builds websites, and is the go-to computer guru in her household.
Beware, though, tackling one new skill may trigger an ongoing desire to wade into other unfamiliar territories. (Hint: That's a good thing!) After Poulos's success at the computer, she tackled a longtime desire to learn how to sew. Others we spoke to mentioned that golf lessons sparked an interest in landscaping or that trying a hand at Spanish led to studying sign language. "I highly recommended learning about something you have always had a desire to—no matter what your age!" Poulos says. And hey, it's a lot more fun than a crossword puzzle!