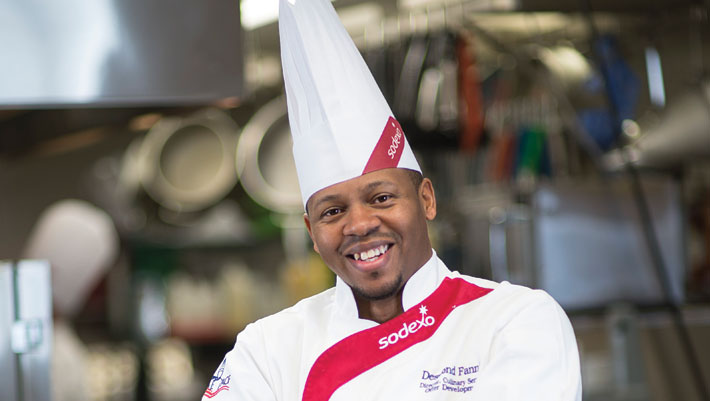 Sodexo Chef Desmond Fannin shares fun ideas about cooking, eating and following your dreams.
Q: What's the greatest thing about being a chef?
A: That's easy! It's having the ability to create great food. Food makes people happy, and I love seeing people happy. Food helps to create lifelong memories. Most of all, if you can cook, people think you're cool!
Q: How did you learn to be a chef?
A: I began cooking in a restaurant when I was 15 years old, and the manager suggested that I attend culinary arts school. So, I did! I also worked with amazing chefs over the years who taught me skills I didn't learn in culinary school.
Q: Do you get to eat what you cook?
A: I sure do! Even if I am cooking for guests and not able to have the entire meal, I still sample the dish to make sure the flavors are how they should be. Most of the time, I take just a single spoonful. When chefs are working, you usually just taste and keep right on cooking to get the whole meal finished.
Q: Fill in the blank: Being a chef means _________.
A: You have the knowledge and skills to prepare a variety of foods—and understand the culture behind the different cuisines. A chef is a leader of a professional kitchen and must have the ability to lead and train other professional cooks and chefs. Math skills are very important because you need to watch your budget costs when you're buying food and following recipes. Science is important, as well, because you must be sure that the food that you're preparing is at the right temperature and safe for your guests to enjoy.
Q: Since you developed recipes for the Mindful program, can you tell us how you created healthy and delicious flavors all in the same dish?
A: It was a team effort. We collected data on what our café guests were eating so we knew which flavors they were choosing. We focused on the most popular flavors, then it was trial-and-error to make these delicious dishes healthier. We used a panel of experts who tasted every dish and provided feedback to help us create the best-tasting dishes for guests. Our goal was to create bold flavors that we all love to eat then figure out ways to make the dishes healthier.
Q: Do you have favorite Mindful dishes you developed?
A: I can share the recipes for two of my all-time favorites. If you love tacos, you'll love these Chipotle Chicken and Queso Fresco Tacos. The chipotle peppers have a smoky flavor that's balanced by the crisp romaine lettuce and fresh salsa. The Strawberry Salad and Dark Chocolate Vinaigrette is really good. The strawberries and chocolate draw you in, and the red quinoa and greens provide a lot of nutrients.
Q: Do you follow recipes or create your own food?
A: I do both. When preparing different cuisines, I use recipes for items that I've never made before to make sure they are authentic. Using recipes is important if you're preparing a large amount of food because you need to be sure that the flavors are accurate, the costs are not too high, and there is enough food prepared for everyone. I use recipes at home when I try something new to keep it authentic, but I also love to experiment and create my own meals without using recipes.
Q: What's the easiest/hardest ingredient to cook with?
A: The easiest ingredient is easy: vegetables! They're easy because they don't require a lot of cooking time or need fancy techniques. If you properly cook and season them, you'll be successful. The hardest ingredient to cook with might be fish because it's easy to overcook or undercook it, and it tends to stick to the pan.
Q: What did you want to be when you grew up?
A: Other than pop star Michael Jackson or basketball legend Michael Jordan, I always wanted to be an artist because I was focused on art and drawing. Being a chef allows me to be creative and artistic, and I love what I'm doing.
Q: Did you eat veggies when you were a kid?
A: Sometimes I ate them, but not as much as I should have. My grandmother would make me stay at the dinner table until all my veggies were gone. Now, I eat them willingly. I eat a salad at home almost every night. I also love cucumbers, carrots, broccoli, spinach, asparagus, green beans and collard greens. The key to great vegetables is to not overcook them!
Q: What's your favorite food and why do you like it?
A: My favorite foods to eat are spaghetti with meat sauce, just about all Asian foods, and a really good gyro. I loved these foods since I was a kid. We ate spaghetti with meat sauce every week. It's actually called Bolognese, and now I make it with healthy ground turkey for my family. We had Asian food as a treat every now and then, and gyros were an even bigger treat because it meant we were probably out shopping at the mall. A few years ago, I learned how to make authentic fried rice from a chef from China. He cooked it very quickly with very simple ingredients like scallions, garlic, black vinegar and eggs, and it was the best fried rice I ever had in my life.
Q: What are the healthiest things kids can eat?
A: Fresh fruits and vegetables, for sure. Find a few that you really like and start there. Melons are sweet and delicious and have a high water content that's good for keeping you hydrated. And watermelon is definitely one of the most popular fruits because it's so sweet and juicy!
Q: Is there a cool, healthy food every kid should try?
A: I always encourage kids to try salmon because there are so many health benefits to eating salmon. You can pump up the flavor with spices like Cajun or jerk seasoning. Try a different spice blend each time! I also think kids should try lots of different foods, especially foods from any country outside of the one where you live. And when it's snack time, reach for fresh or dried fruits and nuts you haven't tried before. Healthy snacking can help create good eating habits.
Q: How can I learn to eat something that I think I won't like?
A: You can read about the food first, if that helps. Or, you could be brave by jumping right in and trying it! Just taking a bite of a new food always works for me. If you like it, great! If you don't like it, try it again another time. Maybe you'll like it the second time.
Q: If I want to be a chef, how can I start practicing now?
A: Ask your parents if you can help with meals at home. You can start reading about different foods online and roam the fresh food aisles of the grocery store. Many grocery stores and community centers teach cooking classes and you not only learn to cook new foods but you also get to eat what you make!
Q: If you could give Mindful Kids one piece of advice, what would it be?
A: Follow your dream! Going to culinary school and being a chef is a dream come true. It's taken me to other countries and even Disney World for the first time. Dream big and see where it takes you!
Thank you, Chef Desmond, for sharing your great stories with us. You've inspired us!