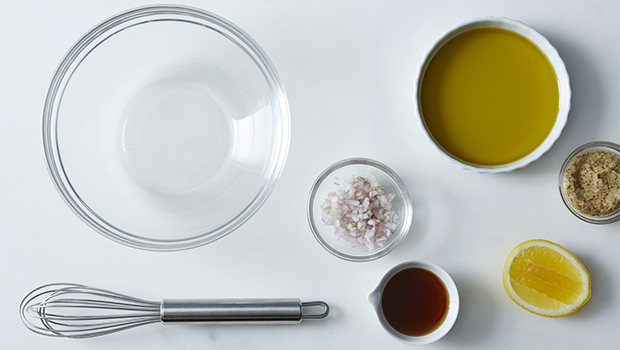 Looking for a big boost of flavor? Then top off your favorite dishes with one of these tasty spreads.
Food should never be boring. That is where condiments come in. They can spruce up any dish. Whether you're having the neighbors over for a cookout or just deciding how to top your Mindful meal on your lunch break, here are five flavor-packed and guilt-free condiments to reach for. Plus, a bonus: the three you may want less of.
Mustard: From Dijon and whole grain to spicy brown and classic yellow, there is a mustard for everyone out there to enjoy. Most mustard has very few, if any, calories per serving.  You know it's great on burgers, sandwiches, and hotdogs, but you can also whisk mustard with a bit of olive oil for a zippy dressing for greens or potato salad, or rub it on meat before grilling.
5 calories, 0 grams fat per 1-teaspoon serving  
Salsa: Refreshing and low in calories and fat, salsa is a great way to kick up the flavor of grilled chicken or pork. Try different levels of spice and also versions with beans, mango, or corn to bring a range of nutritional benefits to your next barbeque.
5 calories, 0 grams fat per 1-tablespoon serving
Vinaigrette: Sure, by itself, vinegar doesn't sound too exciting. But mix it with a splash of heart-healthy olive oil, some fresh herbs, and a dash of honey and it becomes a zesty addition. Try your homemade vinaigrettes as a sandwich spread or on bean or vegetable salads. You can even marinate lean cuts of beef like skirt steak with vinaigrette to tenderize them and add some tang.
59 calories, 5 grams fat per 1-ounce serving
Hot Sauce: There are endless hot sauces out there, offering everything from a mild kick to a fireball of flavor. Just remember the advice too many of us learn the hard way: A little bit goes a long way. Try your favorite hot sauce on shrimp or chicken before they hit the grill, or add some to chilled green bean salad for a surprising kick.
1 calorie, 0 grams fat per 1-teaspoon serving
Relish: Relish shouldn't be confined to hotdogs. Cucumber relish is delicious on grilled fish, while pepper relish is a nice addition to grilled pork. Look for varieties without added sugar like high fructose corn syrup. You can also make your own quick version using vinegar or pickle brine, your favorite vegetable, a little mustard, and dill.
19 calories, 0 grams fat per 1-tablespoon serving
Curb These Condiments
These popular toppers are loaded with extra fat and calories and don't offer a lot of flavor payoff.
Mayonnaise: Mayo is high in calories and fat. It's not that you should never touch the stuff, just use it sparingly and look for varieties that are made with olive oil, which tend to have less fat and fewer calories.
90 calories, 10 grams fat per 1-tablespoon serving  
Ranch Dressing: Ranch dressing is made with a base of vegetable oil and eggs, making it high in fat. Try ranch flavoring in plain yogurt for a similar flavor and serve it with your favorite cut veggies at the next picnic.
140 calories, 14 grams fat per 1-ounce serving
Sour Cream: This is one of the worst offenders when it comes to saturated fat. If you're looking for a rich, cool flavor to top off potatoes or to use for easy dips, try plain Greek yogurt. It has the same consistency and an enticing tang but with 35 calories, 2.5 grams of fat, and many more nutrients per dollop.
46 calories, 5 grams fat per 1-ounce serving