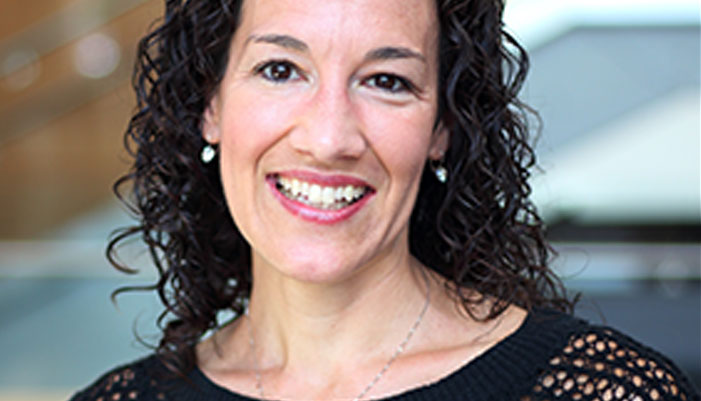 Dietitian, Alexa Schmidt, gives tips on how to eat healthier.
Q: I want to lose weight in 2018 but I'm new to healthy eating. How can I get started?
A: The New Year is the perfect time to set goals and start on a path to healthy eating. You might wonder what that means. Healthy eating means having nutritious, balanced meals and snacks that keep you energized and satisfied throughout the day. Sounds simple enough, right? And it is—if you follow these three principles. Let's get started!
It's easier to make smart choices when healthy food is readily accessible. The best way to guarantee that you'll eat healthy food is to stock your refrigerator and pantry with your favorite items from each of these six food groups: whole grains, fruits, vegetables, dairy, healthy fats, and lean meat, fish, and beans. With a well-stocked fridge and pantry, you can create balanced meals and snacks that are easy to prepare – we've got a lot of recipes posted on mindful.sodexo.com.
Choose three or four food groups per meal (for example, salmon with brown rice and spinach) and one or two food groups for a snack (like a handful of almonds and a bunch of grapes). Of course, there are many options from each food group, but this list can serve as inspiration while grocery shopping.
Whole grains: oatmeal, brown rice, air-popped popcorn, whole grain bread, whole wheat pasta, whole grain crackers
Fruits (fresh, frozen, dried or canned in natural juices with no added sugar): apples, oranges, berries, grapes, bananas, raisins, and applesauce
Vegetables (fresh, frozen, or canned): spinach, broccoli, carrots, green beans, peppers, zucchini, squash
Dairy: skim milk, low-fat or nonfat yogurt or Greek yogurt, low-fat cheese
Healthy fats: almonds, walnuts, nut butter, olive oil, olives, and avocados
Lean meat, fish, and beans: skinless chicken and turkey, ham, roast beef, salmon, tuna, beef sirloin, pork tenderloin, eggs, black beans, chickpeas, lentils
Eat every three to four hours. You need to consistently fuel your body throughout the day. This will not only boost your metabolism and fight off food cravings but will also help you be more productive, focused, and energized. NEVER skip a meal—it's one of the worst weight-loss mistakes you can make. It can leave you feeling hungry, which often leads to sugar cravings. To prevent a busy schedule from getting in the way of healthy eating, I suggest identifying a day each week to prep meals and snacks so you always have healthy options at the ready on hectic days.
Pick the right portions. Every food can fit into a healthy eating plan in moderation. There are no good or bad foods if you stick to the proper portion sizes. Here are a few easy ways to approximate portion sizes with your hands:
Fist = 1 cup grains, fruit, or vegetables
Cupped hand = ½ cup grains, fruits, vegetables, or beans
Palm = 3 ounces meat
Thumb = 1 tablespoon nut butter, nuts, or olive oil
Taking small steps is the key to enjoying the benefits of lifelong healthy eating, so I encourage you to set one specific healthy eating goal each week to get you started, rather than overhauling all your habits at once. Use these three healthy eating principles to guide you as you make small adjustments like eating breakfast every day if you aren't already doing so. All of this will keep you excited about the healthy changes ahead and keep you on your new path. Wishing you happy healthy eating this year and every year!
Alexa Schmidt is a registered dietitian with Binghamton University Dining Services by Sodexo. She works to enhance the health and well-being of students, faculty, and staff on campus through nutrition consultations, guest lectures, nutrition programs, education materials, special diets (for celiac disease or food allergies, for example), and more. Schmidt is a member of Binghamton University's Healthy Campus Initiative and its Eating Awareness Committee, and she serves as an adjunct faculty member for the health and wellness studies department, for which she teaches online nutrition courses.