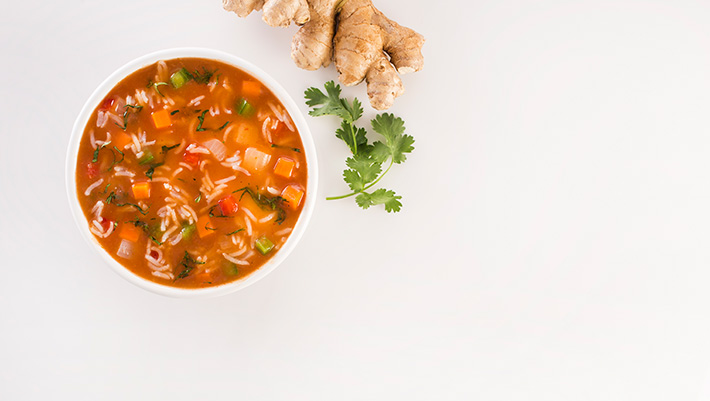 Chicken and Jasmine Rice Soup Enhanced with Thai Curry Paste and Finished with Coconut Milk, Cilantro and Lime
Print
Follow Our Recipe
Prep Time: 5 to 8 minutes|Cook time: 25 to 30 minutes|Yield: 6 servings
Ingredients
1/3 cup water
3 Tablespoons jasmine rice
8 oz raw chicken breast
1 ½ teaspoons canola oil
1 cup diced yellow onion
2 teaspoons minced fresh garlic
1 teaspoon red curry paste
2 Tablespoons peeled and minced fresh ginger root
1 3/4 Teaspoons seeded and thinly sliced jalapeno pepper
3 1/2 cups low sodium chicken broth
1 cup peeled and diced sweet potatoes
3 Tablespoons coconut milk
1/2 cup reduced fat (2%) milk
1 1/2 low sodium soy sauce
3/4 teaspoon fish sauce
1 1/2 teaspoons cornstarch
1 1/2 teaspoons water
2 Tablespoons lime juice
2 3/4 teaspoons unseasoned rice vinegar
1 1/2 teaspoons honey
2 Tablespoons thinly sliced green onions
1 1/2 Tablespoons chopped fresh cilantro
To Cook Jasmine Rice:
1.Bring water to a boil.
2.Stir in rice. Reduce heat to medium-low. Cover and simmer for 15 minutes. Remove from heat. Let stand, covered, for 5 minutes or until liquid is absorbed.
To Poach Chicken:
1.Place chicken in a saucepan or pot, making sure to sit mostly in a single layer
2.Cover chicken with water by an inch or so.
3.Bring water to a boil over medium-high heat.
4.Reduce to a simmer, cover, and cook for 8 to 10 minutes or until opaque and cooked through.
To Make Thai Chicken & Rice Soup:
1.Heat oil in stock pot or kettle over medium heat.
2.Add onion, and saute for 3 minutes
3.Stir in garlic, and saute for 1 minute.
4.Stir in curry paste, ginger and jalapeno. Saute for 1 minute.
5.Add stock, sweet potatoes. Bring to a boil. Reduce heat, and simmer for 10 minutes.
6.Stir in chicken, coconut milk, milk, soy sauce and fish sauce. Return to a simmer and cook for 10 minutes.
7.Combine cornstarch and water for slurry. Stir into soup. Bring to a simmer.
8.Stir in rice, lime juice, vinegar, honey, green onions and cilantro. Enjoy!
Nutrition Facts: Calories: 130, Carbs: 15 g, Protein: 8 g, Fat: 3 g, Sat. Fat: 1.5 g, Cholesterol: 20 mg, Sodium: 220 mg, Fiber: 1 g