Though nutrition is at the center of Mindful, overall health and wellness is just as important. Dietitians and health experts everywhere agree that daily tracking of physical activity and food intake is the single biggest tool for success in any health, diet or fitness program.
Sodexo has formed numerous partnerships that make keeping a food or exercise log second nature so that you can meet or exceed your healthy lifestyle goals. You'll find all of our Mindful meals in the MyFitnessPal app to effortlessly track your foods. Fitbit, a wireless activity tracker, also integrates with MyFitnessPal and is part of our Mindful wellness solutions.
My Fitness Pal
Want to be more Mindful of what you eat and how much daily activity you get? Check out the MyFitnessPal website and app.
Sodexo has partnered with MyFitnessPal. As such, you'll be able to use the robustness of its system for your nutritional calculator needs.
In addition to more than 2.5 million commercial products already in its database (including all of our Mindful and Sodexo chef-developed menu items), MyFitnessPal allows you to easily scan the barcode of any packaged food or our cafe offerings to log the nutritionals.
You can also build your own foods by selecting individual ingredients and populating them into your breakfast, lunch, dinner or snack areas (for example, if you have a snack of an apple and a tablespoon of peanut butter – first search for the apple, then peanut butter).
This information is logged into your MyFitnessPal account enabling you to keep your logs indefinitely. MyFitnessPal also remembers your favorite foods (as most people tend to eat the same foods over and over again) so tracking becomes even easier! Plus, your food diary will be stored for weeks, months, even years!
Another benefit is MyFitnessPal integrates seamlessly with fitbit, a convenient wireless device that tracks your activity and exercise levels. Ultimately, these two tools together provide a technologically advanced health and wellness solution – especially when combined with healthier eating supported by the Mindful approach.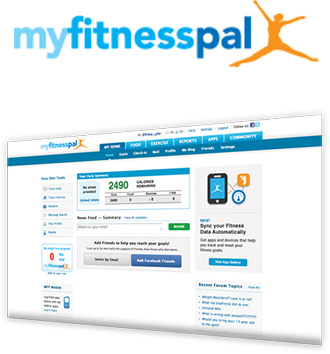 FitBit
Get addicted to taking "steps."
Mindful is about taking a series of small steps to getting healthy so that eventually making healthy choices becomes second nature. Fitbit is a great way to help you do this!
A convenient wireless device you clip on your waistband, Fitbit automatically counts how many steps you take a day (shoot for 10,000 a day!), how many flights of stairs you take, the calories you burn and more. It also integrates with MyFitnessPal so you can easily track your daily activity and food diary.
Our partnerships with MyFitnessPal and Fitbit are just one more way to become Mindful throughout the day!