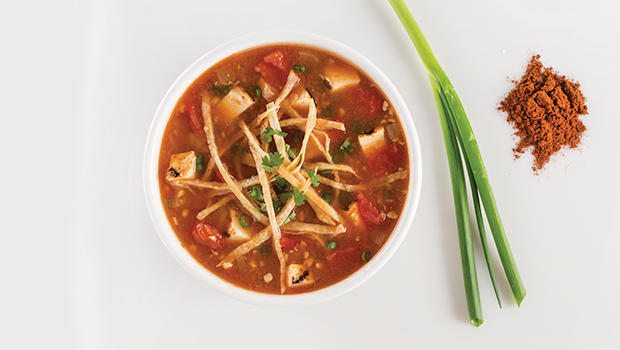 Print
Follow Our Recipe
Ingredients
8 - 6" yellow corn tortillas, julienne
1/8" strips
½ teaspoon granulated garlic Dash ground black pepper
8 oz. chicken breast, boneless and skinless
1½ tablespoons canola olive oil blend, 80:20
2½ oz. yellow onions, fresh, diced
½" 3 tablespoons garlic, fresh, minced
¾ teaspoon ancho chili powder
1/8 teaspoon chipotle chili powder
1½ whole bay leaves
½ teaspoon ground cumin
6 oz. tomato puree, canned
4¾ cups low-sodium chicken broth
2 tablespoons cilantro leaves, fresh, chopped
2 tablespoons + 1 teaspoon cornstarch
2 tablespoons water
½ teaspoon Kosher salt
Evenly coat tortilla strips with vegetable oil spray (not listed).
Place in a single layer on sheet pans. Do not overcrowd. Bake in a preheated 400°F standard oven for 5 to 8 minutes, or until crisp and lightly browned. Cool quickly. Place baked tortilla strips in a food processor. Process until finely ground. Hold for use.
Combine granulated garlic and pepper until well-blended. Sprinkle the seasoning on chicken to evenly coat. Marinate in the refrigerator for one hour.
Preheat char broiler over medium heat. Place seasoned breasts, and cook for 2 to 3 minutes on each side.
Place chicken on sheet pan. Bake grilled chicken in a preheated 400°F oven for 13 to 15 minutes, or until fully cooked. Cool quickly. Dice the chicken into ½" cubes.
Heat large stockpot over medium-high heat. Add oil, onions and garlic. Sauté for 2 to 3 minutes, or until aromatic and lightly browned.
Add ancho and chipotle chili powder, bay leaves and cumin. Sauté for 1 to 2 minutes.
Stir in tomato puree and chicken broth. Bring to a simmer.
Stir in finely ground tortilla until dissolved.
Combine cornstarch and water until well-blended. Whisk into soup. Return to a simmer.
Stir in chicken and salt. Simmer for 2 minutes. Keep hot before serving, remember to remove bay leaves before serving.
Nutrition Facts: Calories: 140, Carbs: 14g, Protein: 8g, Fat: 6g, Sat. Fat: 1g, Sodium: 350mg, Fiber: 2g