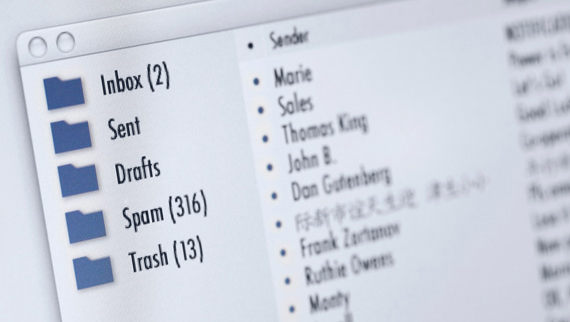 We know. We know. Which is why we've got four simple ways to fix that.
If you're like us, here's something you probably (make that definitely) want: some way to control the barrage of e-mails that threatens to overwhelm your days. Yeah, sure, but how? Well, we talked to top experts who came up with four simple ways to conquer the curse (and wasted time) of an overactive in-box (especially at work). Try just a couple of their tips and you'll take a major step to a happier, saner you. That means: less time staring at a screen. More time doing the things you really want to do.
Avoid e-mail conversations. For people who are within walking distance (like your co-worker just two offices down the hall), make it a goal to walk over and have face-to-face interaction as much as possible. Don't use email as a crutch. You'll collaborate better in person, and even burn some calories and get some exercise by adding multiple little walks to your day.
Take control of the flow. Start by unsubscribing to e-newsletters and turning off notifications from Facebook or Twitter. You may also want to reconsider whether your colleagues are copying you on too many FYI e-mails. If so, tell them you only need to be updated at certain times or when a final decision is made.
Pare down your in-box. Your main in-box should only house e-mails that need a response. Anything else should be deleted or archived. Not sure what to delete? Start with one-word replies and meeting announcements. Download photos and documents, and store them in appropriate folders on your desktop, not your in-box. Set time aside each week or month to clear out your archive folders.
Moderate your time. Choose a handful of times during the day to review and respond to your in-box. For example, upon arrival, an hour before lunch, two hours after lunch, and again before leaving. If you constantly check, you'll likely end up spending the majority of your day doing that and nothing else. When you're not using your e-mail program, close it or turn off the visual or audible alerts that distract you.