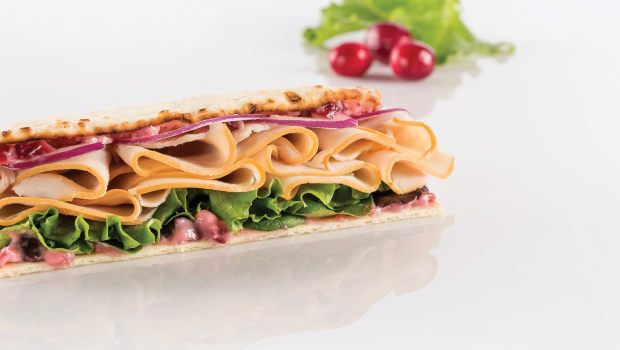 Print
Follow Our Recipe
Ingredients
Cranberry Mayonnaise (recipe follows)
4 flatbread squares
2 cups spring lettuce mix
½ pound deli sliced reduced-sodium turkey breast
½ cup sliced red onion
Prepare Cranberry Mayo as directed.
Heat flatbread on each side for 10 to 15 seconds or until warm and pliable.
Spread 1 tablespoon Cranberry Mayo on each flatbread. Place ½ cup of the spring mix, 2 ounces of the turkey and ⅛ cup of the red onion on each flatbread. Fold flatbread over to close. Serve immediately.
Nutrition Facts: Calories: 230, Carbs: 25g, Protein: 16g, Fat: 7g, Sat. Fat: 1.5, Sodium: 580mg, Fiber: 2g