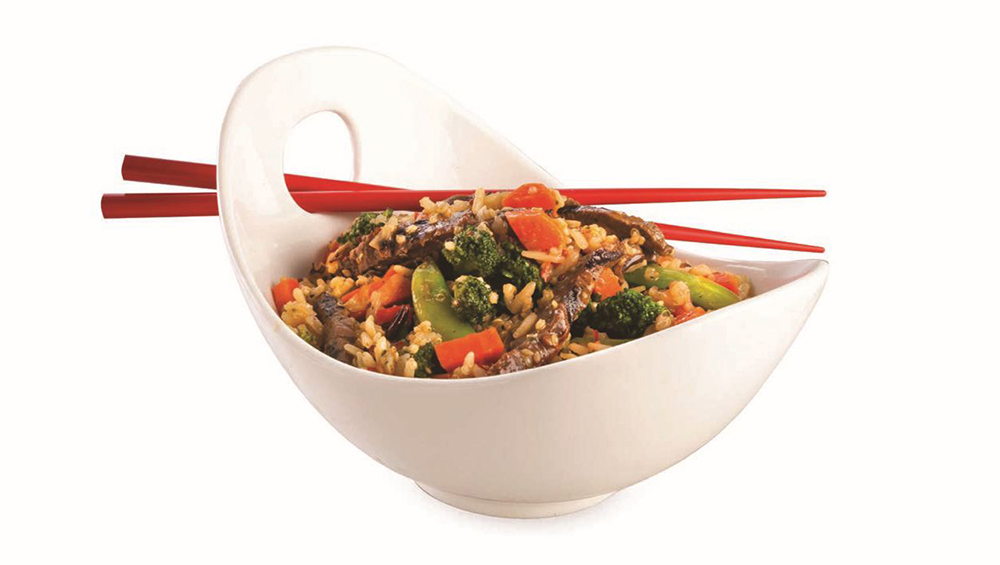 Print
Follow Our Recipe
Ingredients
¾ cup Broccoli Florets
½ cup Sugar Snap Peas
2 tsp. Sesame Seed Oil
2 tsp. White Unsalted Sesame Seeds
1 Tbsp. Ginger Root, minced
1 Tbsp. Garlic, minced
2 tsp. Green Onions, sliced
1 cup Cabbage, diced ¼"
½ cup Red Peppers, diced ½"
½ cup Carrots, sliced
2 tsp. Black Sesame Seeds
¼ cup Vegetable Stock or Broth
¾ lb. Kamut Rice Blend (recipe follows)
½ cup Thai Citrus Sauce (recipe follows)
8 oz. Herb Crusted Roast Beef(recipe follows)
Place broccoli and sugar snap peas in boiling water. Blanch for 30 seconds. Shock in ice water. Keep refrigerated until ready to use.
Preheat sauté pan over high heat or wok to 350°F.
Add oil and white sesame seeds. Quickly toss for 5 seconds.
Add minced ginger, minced garlic and sliced green onions. Sauté for 30 seconds or until aroma of ginger and garlic prevail.
Add diced cabbage, diced red peppers, sliced carrots, blanched broccoli and blanched sugar snap peas. Quickly stir fry for 1 minute by tossing frequently to avoid uneven cooking.
Add cooked rice, herb crusted roast beef strips and vegetable broth. Stir quickly to fully incorporate all ingredients.
Add Thai citrus sauce. Toss for 30 seconds or until heated through. Minimum internal temperature should be at least 165°F.
Garnish with black sesame seeds.
Kamut Rice Blend
Ingredients
1 cup Vegetable Broth
6 oz. Sunrise Blend Rice with Quinoa Flakes
Add rice blend with cold vegetable broth in a stock pot over high heat. Mix well. Cover and reduce heat to a simmer. Cook for 45 minutes or until tender and all liquid is absorbed. Keep hot until ready to use.
Thai Citrus Sauce
Ingredients
¼ cup Sweet Thai Chili Sauce
2 Tbsp. Teriyaki Sauce
1 Tbsp. Orange Juice
1½ tsp. Lime Juice
Combine all ingredients until well-blended. Keep refrigerated until ready to use.
Herb Crusted Roast Beef
Ingredients
½ tsp. Low Sodium Beef Base
1 tbsp. Water
¼ tsp. Black Pepper
¼ tsp. Garlic Powder
¼ tsp. Onion Powder
¼ tsp. Dry Mustard
½ tsp. Rosemary Leaves
¼ tsp. Thyme
¼ tsp. Allspice
11 oz. Beef Top Round
Combine base, water, pepper, garlic powder, onion powder, dry mustard, rosemary, thyme and allspice for rub.
Evenly rub over entire beef, including under the skin.
Preheat oven to 375°F. Place roast in a roasting pan and roast for 2 hours and 15 minutes or until minimum internal temperature reaches 145°F.
Slice beef into thin strips for stir fry. Keep hot until ready to use.
Nutrition Facts: Calories: 370, Carbs: 47g, Protein: 22g, Fat: 10, Sat. Fat: 3g, Sodium: 500g, Fiber: 8g