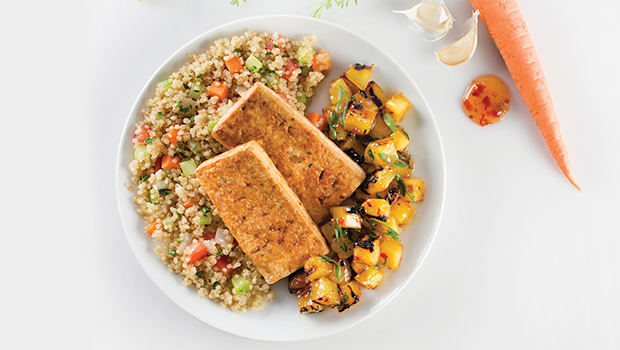 One of our favorite Mindful Meals, this healthy entree is sure to please your tastebuds!
Print
Follow Our Recipe
Ingredients
2 cups quinoa primavera
8 slices teriyaki tofu
1 cup Asian grilled pineapple
For each portion, plate ½ cup quinoa primavera with 2 slices teriyaki tofu and ¼ cup grilled pineapples.
Asian Grilled Pineapple: Grill pineapple on grill for 3 minutes on both sides. Cool quickly under refrigeration. Dice pineapple into ½-inch cubes. In a mixing bowl, combine diced pineapples, 1 ½ teaspoons thinly sliced green onions and 1 tablespoon sweet chili sauce. Toss gently to coat. Keep refrigerated until ready to use.
Ponzu Dipping Sauce (for quinoa primavera): In a mixing bowl, combine 1 tablespoon low sodium soy sauce, dash of sweet chili sauce, ½ teaspoon fresh orange juice and ¼ teaspoon thinly sliced green onions. Whisk until well blended. Keep refrigerated until ready to use.
Teriyaki Tofu: In a mixing bowl, combine 2 tablespoons low sodium soy sauce and 1 tablespoon sriracha chili sauce. Mix until well blended. Drain and gently press tofu with the palm of hand to release any moisture. Slice tofu into 8 even slices. Pour marinade over tofu to evenly coat. Keep refrigerated for 30 minutes to marinate. Drain and discard sauce before cooking.
Season each tofu slice with ½ teaspoon Cajun seasoning. Evenly coat each slice of tofu with 2 tablespoons cornstarch. Preheat a large sauté pan to medium-high heat. Add 2 tablespoons canola oil to pan. Place seasoned tofu in pan. Pan sear each slice for 2 to 3 minutes turning and browning evenly and temperature reaches 140°F. Hold hot for use.
Quinoa Primavera: In a sauce pot, heat 1 1/8 teaspoons canola oil. Add ¼ cup diced yellow onions, ¼ cup diced celery, ¼ cup diced carrots and ¾ teaspoon chopped garlic. Sauté for 3 to 4 minutes or until soft. Add 1/3 cup quinoa. Sauté until lightly toasted. Add 1 ¼ cups water, 1/8 teaspoon pepper and 1 bay leaf. Bring to a boil. Reduce heat and simmer for 15 minutes. Remove from heat. Cover with a lid and set aside until water is absorbed. Stir in ¼ cup diced plum tomatoes, 2 teaspoons ponzu dipping sauce and 1/3 cup chopped parsley. Remove bay leaf. Fluff with a fork. Keep hot until ready to use.
Nutrition Facts: Calories: 280, Carbs: 35g, Protein: 11g, Fat: 11g, Sat. Fat: 2g, Sodium: 340g, Fiber: 4g