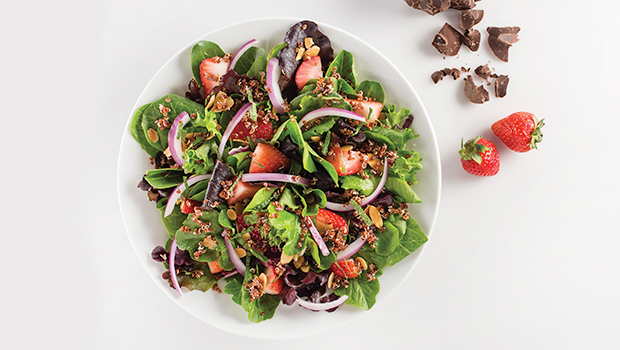 Print
Follow Our Recipe
Ingredients
½ cup uncooked red quinoa
Dark Chocolate Vinaigrette (recipe follows)
1 package (12 oz) spring lettuce mix
1 pint fresh strawberries, quartered
½ cup sliced blanched almonds, toasted
½ cup julienned red onion
4 tsp. chopped fresh mint leaves
Instructions
Cook red quinoa according to package directions. Prepare Dark Chocolate Vinaigrette. Refrigerate both until ready to serve.
For the salad, toss lettuce and cooked quinoa to gently mix. Divide among 4 serving plates. Sprinkle each with ½ cup strawberries, 2 tablespoons each red onion and almonds, and 1 teaspoon mint.
Drizzle each salad with 2 tablespoons vinaigrette. Serve immediately.
Nutrition Facts: Calories: 360, Carbs: 54g, Protein: 12g Fat: 13g, Sat. fat: 1.5g, Sodium: 60mg, Fiber: 10g