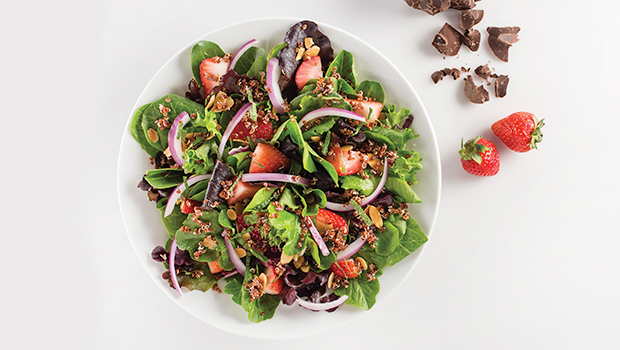 Print
Follow Our Recipe
Ingredients
2 cups water
½ cup uncooked red quinoa
1 package (12 ounces) spring lettuce mix
2 cups fresh strawberries, quartered
½ cup sliced, blanched and toasted almonds
¾ cup julienned red onion
4 teaspoons chopped fresh mint leaves
Chocolate Vinaigrette
Ingredients
¼ cup balsamic vinegar
3 tablespoons orange juice
2 teaspoons olive oil
2 teaspoons granulated sugar
¾ teaspoon Dijon mustard
2 tablespoons unsweetened cocoa
Cook red quinoa according to package directions. Refrigerate until ready to serve.
Chocolate Vinaigrette: Mix balsamic vinegar, orange juice, olive oil, granulated sugar and Dijon mustard until sugar is dissolved. Whisk in unsweetened cocoa until well blended. Refrigerate until ready to serve.
Salad Build: Toss lettuce and cooked quinoa to gently mix. Divide among 4 serving plates. Sprinkle each with ½ cup strawberries, 2 tablespoons each red onion and almonds and 1 teaspoon mint. Drizzle each salad with 2 tablespoons Chocolate Vinaigrette.
Nutrition Facts: Calories: 360, Carbs: 54g, Protein: 12g, Fat: 13g, Sat. Fat: 1.5g, Sodium: 60mg, Fiber: 10g