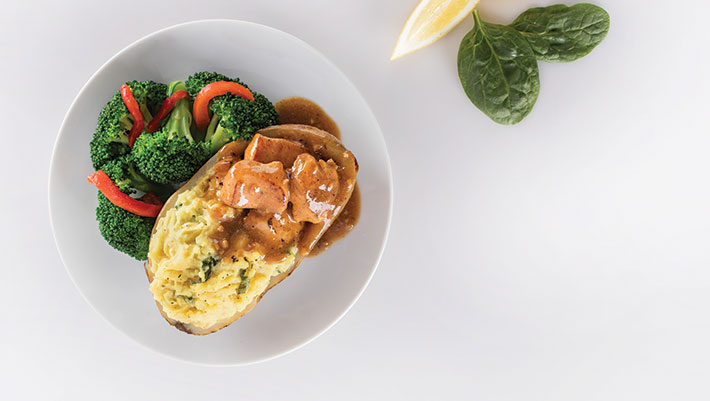 Creamy Idaho potato stuffed with sauteed spinach and lemon zest, with roasted chicken, mustard gravy and steamed broccoli
Print
Follow Our Recipe
Prep Time: 2 hours 20 min|Cook time: 35 min|Yield: 1 Plate
Ingredients
1 potato skin spinach and lemon stuffed
3 1/2 ounces mustard chicken breast
4 ounces fresh steamed broccoli florets
1/2 ounce roasted red pepper, julienne
Baked Potato Skin
Ingredients
Instant Mashed Potato
Ingredients
1/4 cup + 2 tablespoons water
3 tablespoons + 1 teaspoon instant potato
Spinach and Lemon Stuffed Potato Skin
Ingredients
3 1/2 ounces instant mashed potato
3/8 teaspoon lemon juice
3/8 teaspoon canola oil
1 tablespoon evaporated fat free milk
1/4 teaspoon canola oil
1/4 teaspoon whole clove peeled garlic, fresh, minced
1 tablespoon + 2 teaspoons yellow onion, fresh, minced
1/4 cup + 2 1/2 teaspoons baby spinach, fresh, trimmed
1/8 teaspoon ground turmeric
dash (to taste) ground coriander
dash (to taste) ground cumin
dash (to taste) thyme leaves, dried
dash (to taste) kosher salt
dash (to taste) table ground black pepper
1/4 teaspoon fresh grated lemon rind
Mustard Chicken Breast:
Ingredients
2 1/2 ounces chicken breast, boneless, skinless, raw, diced 1/2 inch
dash (to taste) table ground black pepper
1/4 teaspoon canola oil
5/8 teaspoon Dijon mustard
1/4 teaspoon honey
1/4 teaspoon whole clove peeled garlic, fresh, minced
1 1/4 teaspoons apple cider vinegar
3 tablespoons + 1 teaspoon water
1/4 teaspoon cornstarch
1/4 teaspoon honey
dash (to taste) kosher salt
Roasted Red Pepper
Ingredients
3 tablespoons + 2 1/2 teaspoons red peppers, fresh
Baked Potato Skin: Preheat oven to 475 degrees. Place potato skin on oiled sheet pan. Bake 4 to 6 minutes or until golden brown, turning once for even cooking.
Instant Mashed Potato: Bring water to boiling, add instant potato, stir until fluffy.
Spinach and Lemon Stuffed Potato Skin: Fold first listed oil and evaporated milk into prepared potato mixture. In a skillet, add second listed oil. Place over medium heat, add garlic and onions, sauté for 5 minutes, add spinach and cook for 2 to 3 minutes. Add lemon juice and seasonings and cook for 2 minutes. Remove from heat. Fold into prepared potato mixture. Place 5 ounces mashed potato mixture in 1 half of potato skin, leaving 1 half empty.
Mustard Chicken Breast: Season chicken with pepper. In a bowl, combine oil, mustard, honey and garlic for marinade. Toss chicken in marinade. Refrigerate for 2 to 4 hours to marinate. Drain and discard excess marinade. Place a sauté pan over medium heat. Add chicken and sear for 4 to 5 minutes. Deglaze pan with vinegar and water. Bring to a simmer. Wisk in cornstarch, stir until slightly thickened.
Roasted Red Pepper: Coat sheet pan with vegetable oil spray. Place peppers on sheet pan. Roast in a preheated 425 degree oven for 3 to 5 minutes or until softened and light golden.
For Service: Place 1 stuffed potato in center of plate, top with 3 ounces chicken in the empty half of potato skin. Ladle 1 ounce pan sauce over entire potato. Place 4 ounces steamed broccoli on the side. Top broccoli with 1/2 ounce roasted red peppers.
Nutrition Facts: Calories: 290, Carbs: 21g, Protein: 21g, Fat: 5g, Sat. Fat: 1g, Cholesterol: 45mg, Sodium: 390mg, Fiber: 7g