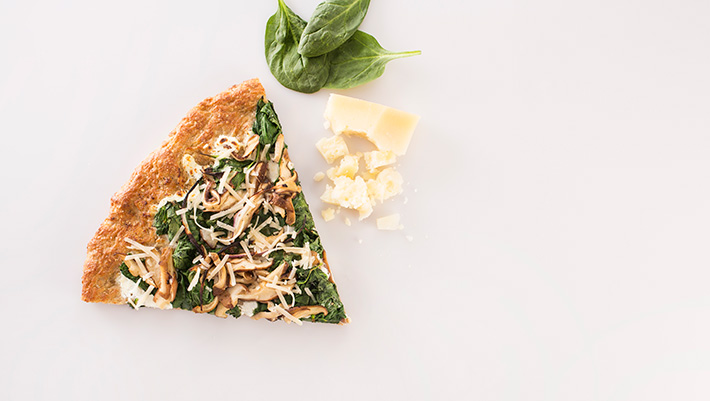 Whole wheat pizza with part-skim ricotta cheese, wilted spinach, sautéed shiitake mushrooms, asiago cheese & fresh basil
Print
Follow Our Recipe
Prep Time: 8 to 10 minutes|Cook time: 12 to 15 minutes|Yield: 8 servings; 1 slice each
Pizza Sauce
Ingredients
1 cup no added salt diced tomatoes
1/4 teaspoon peeled and finely chopped fresh garlic cloves
1/8 teaspoon finely chopped fresh oregano or 1 pinch of dried oregano leaves
1/8 teaspoon onion powder
1 small basil leaf, thinly sliced or 1 pinch of dried basil leaves
One pinch of ground black pepper
One pinch of crushed red pepper flakes
Spinach & Mushroom Pizza
Ingredients
10 ounces shiitake mushrooms, stemmed and sliced
2 teaspoons canola or extra virgin olive oil
1 Tablespoon cornmeal
1 Tablespoon all-purpose flour
1-16-inch whole grain thin pizza crust
1 cup part-skim ricotta cheese
12 ounces spinach, blanched and drained
1/4 cup thinly sliced red onions
2 Tablespoons shredded Asiago Parmesan cheese or Parmesan cheese
1 ½ Tablespoons extra virgin olive oil
1/4 teaspoon Kosher salt
2 Tablespoons thinly sliced fresh basil leaves
To Prepare Pizza Sauce
In a blender or food processor, pulse tomatoes lightly to crush. Transfer to a bowl.
Combine all ingredients until well-blended. Cover and place in the refrigerator until ready to use.
To Prepare Spinach & Mushroom Pizza
Heat a sauté pan over medium heat. Add canola oil and mushrooms. Sauté for 3 to 5 minutes, frequently stirring to prevent sticking. Remove from the heat and allow to cool before using.
Preheat the oven to 425 degrees Fahrenheit or the heat recommended by the manufacturer.
Mix cornmeal and flour. Distribute on the pizza pan or a warm stone. Place dough and evenly stretch out, creating a rim of 1/2-inch from the outside of the dough.
Evenly spread 1 cup of sauce to 1/4-inch from the edge of the crust.
Cover with 1 cup of ricotta cheese to 1/2-inch from the edge of the crust.
In order, evenly top with:
- 12 ounces blanched spinach
- 8 ounces sauteed shiitake mushrooms
- 1/4 cup thinly sliced red onion.
NOTE: Do not pile ingredients in the center but concentrate on spreading them towards the outside edges.
Place in preheated oven. Bake for 8 to 9 minutes. Remove from heat and cool for 1 to 2 minutes.
Evenly top with:
- 2 Tablespoons shredded Asiago Parmesan cheese
- 1 ½ Tablespoons extra virgin olive oil
- 1/4 teaspoon Kosher salt
- 2 Tablespoons thinly sliced fresh basil.
Cut into 8 even slices. Enjoy immediately!
Nutrition Facts: Calories: 220, Carbs: 33g, Protein: 10g, Fat: 7g, Sat. Fat: 2g, Cholesterol: 5mg, Sodium: 240mg, Fiber: 5g