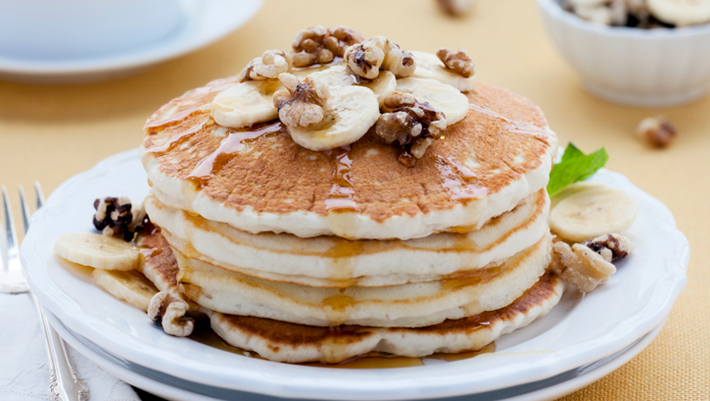 We're giving classic pancakes a tasty twist—and a much-needed nutrition boost. Our secret? We've taken out the sugar! But don't worry, plenty of sweetness comes through in every bite. Now this stack is the perfect Sunday-morning indulgence.
Print
Follow Our Recipe
Ingredients
2 cups reduced-fat buttermilk
1/3 cup smooth natural peanut butter
3 egg whites
2 tablespoons honey
1 ½ cups whole wheat flour
Pinch of kosher salt
¼ cup quick-cooking oats
1 teaspoon baking soda
1 ½ cups chopped banana (about 2 large bananas)
3 tablespoons maple syrup, to serve
¼ cup walnuts (optional garnish)
In a medium bowl, add buttermilk, peanut butter, egg whites and honey, stirring together with a spatula to combine. In a small bowl, add flour, oats, salt and baking soda. Add dry ingredients into the wet ingredients, using a spatula to stir together until just combined. (Some lumps in the pancake mixture are good because it means the batter hasn't been overmixed.)
Let the batter rest for about 10 minutes. Then gently stir in the chopped bananas.
Spray a large nonstick pan with cooking spray and warm it over medium-high heat. Portion 1/3 cup amounts of batter on the pan. When bubbles appear on the edges of a pancake, flip it over with a spatula and slightly flatten it with the back of the spatula. Cook until each side is browned, a few minutes per side. Transfer to a plate. Continue with remaining batter, coating the pan with cooking spray when needed, until all the batter has been used.
Serve pancakes with maple syrup and walnuts.
Nutrition Facts: Calories: 300, Carbs: 50g, Protein: 9g, Fat: 8g, Sat. Fat: 2g, Sodium: 334mg, Fiber: 3g