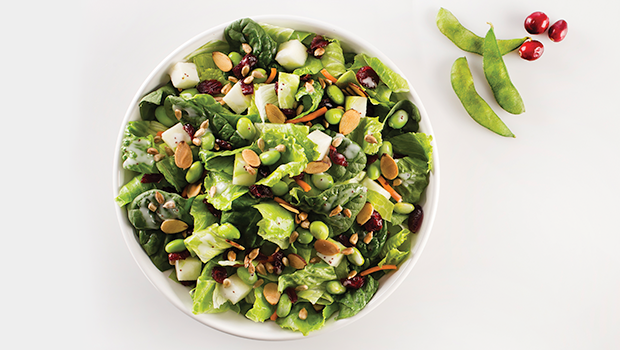 Print
Follow Our Recipe
Ingredients
2 tablespoons Creamy Poppy Seed Dressing (recipe follows)
2 ounces fresh baby spinach
4 ounces chopped romaine lettuce
2 tablespoons roasted sliced almonds
2 ounces diced Granny Smith apples
1 ounce shredded carrots
2 tablespoons dried sweetened cranberries or craisins
1 ounce thawed edamame soybeans
2 tablespoons roasted sunflower seeds
Combine 1 ounce of spinach and 2 ounces of romaine lettuce.
Place diced apples in lemon water to prevent browning. Drain well before use. (1 tablespoon lemon juice per 1 cup of water.)
In a mixing bowl, toss mixed greens, 1 tablespoon almonds, 1 ounce Granny Smith apples, ½ ounce carrots and 2 tablespoons dressing.
Place on a plate.
Garnish with 1 tablespoon cranberries or craisins, ½ ounce edamame beans and 1 tablespoon sunflower seeds. Serve immediately.
Nutrition Facts: Calories: 200, Carbs: 23g, Protein: 6g, Fat: 11g, Sat. Fat: 1.5g, Sodium: 90mg, Fiber: 6g