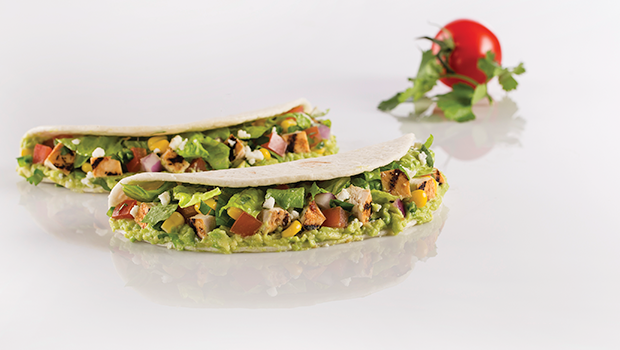 Print
Follow Our Recipe
Ingredients
1½ cups diced Chipotle Chicken Breast (recipe below)
1½ cups Salsa Cruda (recipe below)
12 each 6" Flour Tortillas
¾ cups mashed Avocado, peeled and seeded
1½ cups shredded Romaine Lettuce
¼ cup crumbled Queso Fresco Cheese
Instructions
Lay each tortilla on a flat surface. Spread 2 tablespoons mashed avocado over each tortilla.
On bottom half of each tortilla, place 1/8 cup diced chicken, 2 tablespoons shredded lettuce, 1/8 cup salsa cruda and 1 teaspoon Queso Fresco cheese.
Fold tortilla over to close. Serve 2 tacos.
Chipotle Chicken Breasts
Ingredients
1 Tbsp. + 1 tsp. minced Chipotle Peppers with Adobo
1 tsp. minced Garlic
2 Tbsp. Lime Juice
½ tsp. Ground Cumin
½ tsp. Salt
1/8 tsp. Pepper
15½ oz. Boneless, Skinless Chicken Breasts
Instructions
In a bowl, combine minced chipotle peppers, minced garlic, lime juice, cumin, salt and pepper for marinade. Pour marinade over chicken in a shallow dish. Keep refrigerated for 4 hours to marinate. Drain and discard excess marinade.
Preheat char broiler or grill. Cook chicken for 1 to 2 minutes on each side or until well-marked.
Transfer chicken to a sheet tray. Bake in a preheated 375°F oven for 5 minutes or until completely cooked and minimum internal temperature is at least 165°F.
Slice chicken into ¼" thick slices for use.
Salsa Cruda
Ingredients
¾ cup diced Tomatoes
2 Tbsp. diced Red Onions
2 Tbsp. minced Jalapeño Peppers, seeded
1½ Tbsp. fresh Cilantro Leaves
2¼ tsp. Lime Juice
Dash of Black Pepper
2 Tbsp. frozen Corn, thawed
Instructions
Use gloves to seed peppers. Pepper juice can burn eyes. Wash hands thoroughly with soap and water after seeding peppers.
In a bowl, combine all ingredients. Mix well. Keep refrigerated for use.
Nutrition Facts: Calories: 190, Carbs: 21g, Protein: 16g Fat: 5g, Sat. fat: 2g, Sodium: 330mg, Fiber: 5g