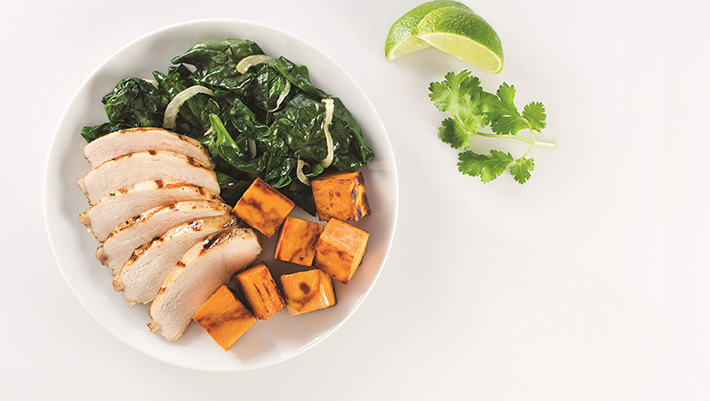 Grilled cumin chicken with roasted sweet potatoes and fresh spinach and onions
Prep Time: 2 hours 5 min
Cook Time: 25 min
Print
Follow Our Recipe
Ingredients
1 1/2 cups roasted sweet potatoes
1 1/2 cups sautéed spinach and onions
1 pound grilled cumin chicken (4 - 4 ounce breast)
Grilled Cumin Chicken
Ingredients
3 tablespoons olive oil
1/4 cup yellow onions, minced
1 1/2 teaspoons garlic, minced
2 teaspoons fresh cilantro leaves, chopped
2 tablespoons lime juice
3/4 teaspoon ground cumin
3/4 teaspoon chili powder
1/2 teaspoon salt
1/2 teaspoon ground black pepper
1 pound boneless skinless chicken breast (4 – 4 ounce)
Roasted Sweet Potatoes
Ingredients
1 1/2 cups sweet potatoes, peeled and diced 1 inch
1 1/2 teaspoon light brown sugar
1 1/2 teaspoon butter
Sauteed Spinach and Onions
Ingredients
2 teaspoons olive oil
1/4 cup yellow onions, julienne
6 cups fresh spinach
1/2 teaspoon ground black pepper
Roasted Sweet Potatoes: Combine brown sugar, sweet potato and butter. Toss to evenly coat. Arrange in single layer on sheet pan. Roast in 375 degree oven for 20 minutes or until sweet potato is tender.
Sauteed Spinach and Onions: In a sauté pan, heat over medium high heat. Add onions. Saute until caramelized. Add spinach. Season with pepper. Mix well and remove from heat. Stir until spinach just wilts.
Grilled Cumin Chicken: In a bowl, combine oil, garlic, cilantro, lime juice, cumin, chili powder, salt and pepper for marinade. Mix well. Add chicken to marinade. Toss to evenly coat. Refrigerate for 2 hours. Drain and discard excess marinade. Place chicken breast on medium high grill for 6 to 8 minutes on each side.
For Service: Place 1 chicken breast on plate with 1/3 cup roasted sweet potato and 1/2 cup spinach.
Nutrition Facts: Calories: 280 , Carbs: 24g, Protein: 25g, Fat: 10g, Sat. Fat: 2g, Cholesterol: 69mg, Sodium: 220mg, Fiber: 6g