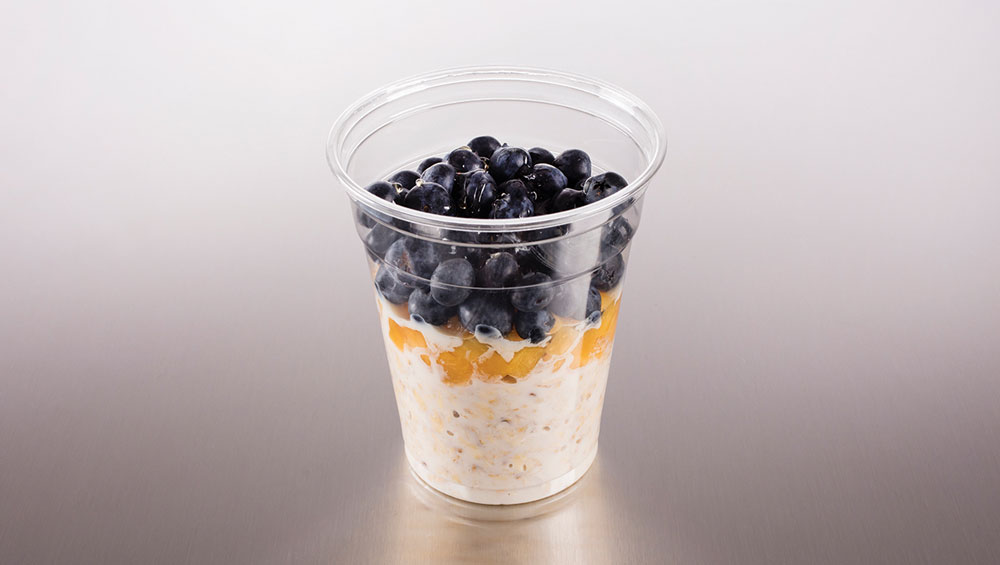 Raw oats and milk sweetened with honey chilled overnight topped with fresh blueberries and peaches with a honey drizzle
Print
Follow Our Recipe
Prep Time: 12 hours|Cook time: 0 minutes|Yield: 4 servings
Overnight Oats:
Ingredients
2 cups low fat milk
3 Tablespoons honey
2 1/4 cups old-fashioned oats
In a stainless steel bowl, add milk and honey. Whisk to combine.
Add uncooked oatmeal to bowl. Mix until well-blended. Cover with plastic wrap. Hold overnight in refrigerator.
Parfaits:
Ingredients
1 cup diced peaches (fresh or unsweetened peaches)
1 1/3 cups fresh blueberries
4 teaspoons honey
In layers, place 1/2 cup chilled oats, 1/4 cup diced peaches and 1/3 cup fresh blueberries in a parfait cup or serving dish.
Drizzle 1 tsp honey on top of blueberries.
Nutrition Facts: Calories: 350, Carbs: 70g, Protein: 11g, Fat: 4.5g, Sat. Fat: 1.5g, Cholesterol: 5mg, Sodium: 60mg, Fiber: 6g