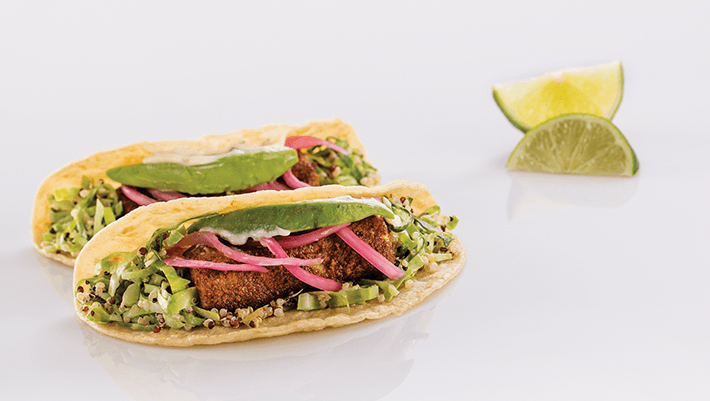 Broiled Mahi Mahi with a quinoa and cabbage slaw served in a toasted corn tortilla topped with pickled onions
Print
Follow Our Recipe
Yield: 8 tacos Serving Size: 4
Ingredients
3/4 pounds Mahi Mahi fillets, cut into strips, about 3" long x ½" thick
3/4 teaspoons Old Bay seasoning
2 teaspoons olive oil
8 6-inch corn tortillas
1/4 avocado, sliced thinly
Quinoa Cabbage Slaw
Ingredients
1 tablespoon low-calorie mayonnaise
1 tablespoon low-calorie sour cream
1 tablespoon fresh lime juice
1 tablespoon chipotle peppers in adobo sauce, minced
1 tablespoon cilantro, minced
1/2 cup quinoa, cooked
1/2 cup cabbage, shredded
Pickled Red Onions
Ingredients
2 tablespoons fresh lime juice
1/4 cup red onions, julienned
1/8 teaspoon Kosher salt
1/8 teaspoon Oregano
2 teaspoons white vinegar
1/4 teaspoon Habanero peppers, minced
Brush fish strips with olive oil and then dip into Old Bay seasoning, turning to coat. Refrigerate for about an hour to allow flavors to penetrate the fish. Place on a baking sheet.
Meanwhile make the Quinoa Cabbage Slaw by combining the mayonnaise, sour cream, lime juice, chipotle peppers and cilantro in a medium-sized bowl and mix. Add the cooked quinoa and cabbage and mix well. Place in the refrigerator and chill until ready to serve.
To make the Pickled Red Onions, combine the lime juice, onions, salt, oregano, vinegar and peppers in a small bowl and allow to marinate for at least a half hour before serving.
Preheat the broiler, and heat the baking sheet of fish strips for about 3 minutes, flip and heat for another 3 minutes until cooked through.
Heat a dry skillet over medium-high heat and gently heat the tortillas on one side for about 3 minutes and flip over and toast for another two minutes, until pliable. Wrap each tortilla in aluminum foil to hold the heat and continue to skillet toast the remaining tortillas.
To assemble each, place a slice of fish on the tortilla and top with some quinoa slaw and pickled onions. Top with a slice of avocado.
Nutrition Facts: Calories: 327, Carbs: 36g, Protein: 29g, Fat: 8g, Sat. Fat: 4g, Cholesterol: 90mg, Sodium: 295mg, Fiber: 5g