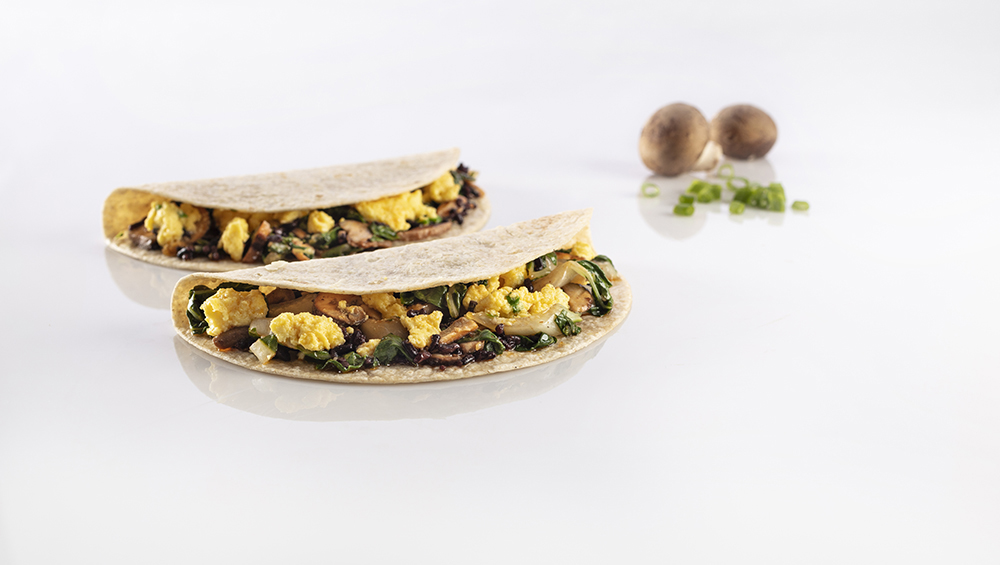 Print
Follow Our Recipe
Prep Time: 5 to 8 minutes|Cook time: 40 to 42 minutes|Yield: 4 servings
Ingredients
1/3 cup water
1/3 cup black rice
4 teaspoons peeled and finely chopped fresh ginger
4 teaspoons finely chopped fresh garlic
2/3 cup thinly sliced shiitake mushrooms
2/3 cup thinly sliced cremini mushrooms
4 cups bok choy, thinly sliced on bias
2 teaspoon sriracha sauce
2 ½ Tablespoons canola oil
2 cups pasteurized egg substitute
4 teaspoons thinly sliced green onions
8 (6") whole grain flour tortilla
8 teaspoons orange sauce
2 teaspoons chili oil
To Make Asian Tacos:
Bring water to a boil in a pot. Stir in black rice. Reduce heat and simmer covered for 40 minutes or until rice is tender and all water is absorbed. Remove from heat. Fluff with a fork.
Combine ginger, garlic, shiitake, cremini, bok choy and sriracha sauce until evenly coated and distributed.
Heat canola oil in a large sauté pan over medium high heat. Place mushroom mixture. Sauté for 60 to 90 seconds or until bok choy is tender. Add hot rice. Combine until evenly distributed.
While vegetables are sautéing, heat another sauté pan over medium heat. Coat with cooking spray. Place egg substitutes and green onions. Using a wide spatula, push egg mixture to center until eggs are just set, about 30 seconds to 1 minute.
Heat tortillas in microwave or in a skillet until warm and pliable.
For each taco, drizzle 1 tsp orange sauce in center of tortilla.
Spread one heaping ¼ cup warm rice mixture over each tortilla.
Top rice with 1/4 cup scrambled eggs.
Drizzle each taco with 1/4 tsp chili oil.
Plate 2 tacos. Enjoy immediately!
Nutrition Facts: Calories: 420, Carbs: 52g, Protein: 17g, Fat: 16g, Sat. Fat: 1.5g, Cholesterol: 0mg, Sodium: 660mg, Fiber: 5g