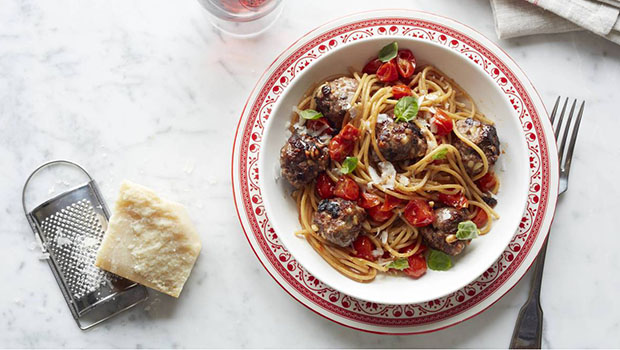 The secret to tender meatballs is to use a combination of meats, along with an ingredient that adds moisture, like cooked grated vegetables. This recipe yields a double batch of meatballs. Save half and use them to make White Bean Soup with Meatballs and Bok Choy the following night for a super-easy and delicious dinner.
Print
Follow Our Recipe
Ingredients
2 teaspoons olive oil, divided
1 medium onion, grated
3 medium zucchini, grated
3 garlic cloves, minced
1 pound ground turkey
1 pound 95 percent lean ground beef
2 egg whites
1/3 cup panko bread crumbs
1 teaspoon Italian seasoning, divided
1/4 teaspoon red chile flakes (optional)
1/2 teaspoon salt, divided
1/2 teaspoon freshly ground pepper, divided Cooking spray
12 ounces dry spaghetti 3 pints grape tomatoes, halved 1/2 cup fresh basil leaves, plus more to garnish
2 cups canned or fresh crushed tomatoes
Parmesan cheese, for serving (optional)
Preheat oven to 400 degrees F. Put 1 teaspoon oil into large nonstick pan and warm over medium-high heat. Add onion and zucchini and cook until vegetables are tender, about 5 minutes. Stir in garlic, cooking 1 more minute. Remove from heat.
In large bowl, make meatball mixture: Combine ground turkey, ground beef, egg whites, bread crumbs, 1/2 teaspoon Italian seasoning, red chile flakes, 1/4 teaspoon salt, and 1/4 teaspoon pepper. Gently stir together with a spatula (or clean hands). Then stir in reserved vegetable mixture.
. Prepare two rimmed baking sheets by lining with foil and coating with cooking spray. Roll meat mixture into balls that are a little bit smaller than a golf ball; place on baking sheets—you should have around 50 meatballs. Place in preheated oven and cook until no longer pink in center, about 15 to 20 minutes. When cooked, use half the meatballs, letting remaining meatballs cool to refrigerate and reserve for the next dinner.
Meanwhile, make pasta: Bring large pot of water to boil and cook spaghetti until al dente, around 8 to 10 minutes, depending on brand, reserving 1/2 cup pasta water.
In large nonstick pan, warm remaining 1 teaspoon oil over medium-high heat. Add halved grape tomatoes and quickly sauté 2 minutes. Stir in basil and sauté 1 more minute. Add crushed tomatoes, reserved 1/2 cup pasta water, and remaining spices (1/2 teaspoon Italian seasoning, 1/4 teaspoon salt, and 1/4 teaspoon pepper), cooking just another minute until warm. Stir in spaghetti and remove from heat.
To serve, place pasta into bowls and top with meatballs. Garnish with (optional) Parmesan and basil.
Nutrition Facts: Grams per
serving: 555 grams, Calories: 596, Carbs: 87g, Protein: 39g, Fat: 11g, Sat. Fat: 3g, Cholesterol: 79mg, Sodium: 657mg, Fiber: 7g