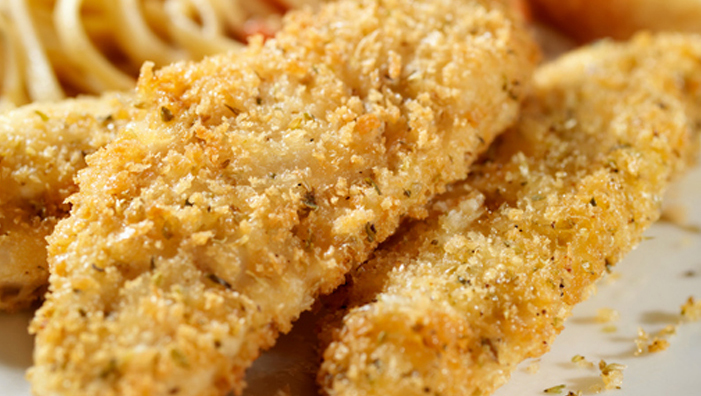 Who thought oven-baked Crispy Chicken Fingers could be this delicious? It's simple and oh so good! Not to mention – good for you!
Print
Follow Our Recipe
Prep Time: 10 minutes|Cook time: 25 minutes|Yield: 4 servings
Ingredients
1 pound chicken tenderloins
1 cup cornflake crumbs
1 teaspoon dried oregano
1 teaspoon garlic powder
1 teaspoon onion powder
¼ cup chickpea flour
2 egg whites, beaten
Preheat the oven to 350 degrees. In a bowl, combine the cornflake crumbs, oregano, garlic powder and onion powder. In separate bowls, place the chickpea flour and the beaten egg whites. Dip each chicken tenderloin in the chickpea flour, then the egg white, and then dredge in the cornflake crumb mixture. Place the tenderloins on a baking sheet sprayed with cooking spray. Bake for 25 minutes or until no longer pink in the center.
Nutrition Facts: Calories: 296, Carbs: 43g, Protein: 28g, Fat: 1g, Sat. Fat: 0g, Cholesterol: 43mg, Sodium: 296mg, Fiber: 2mg