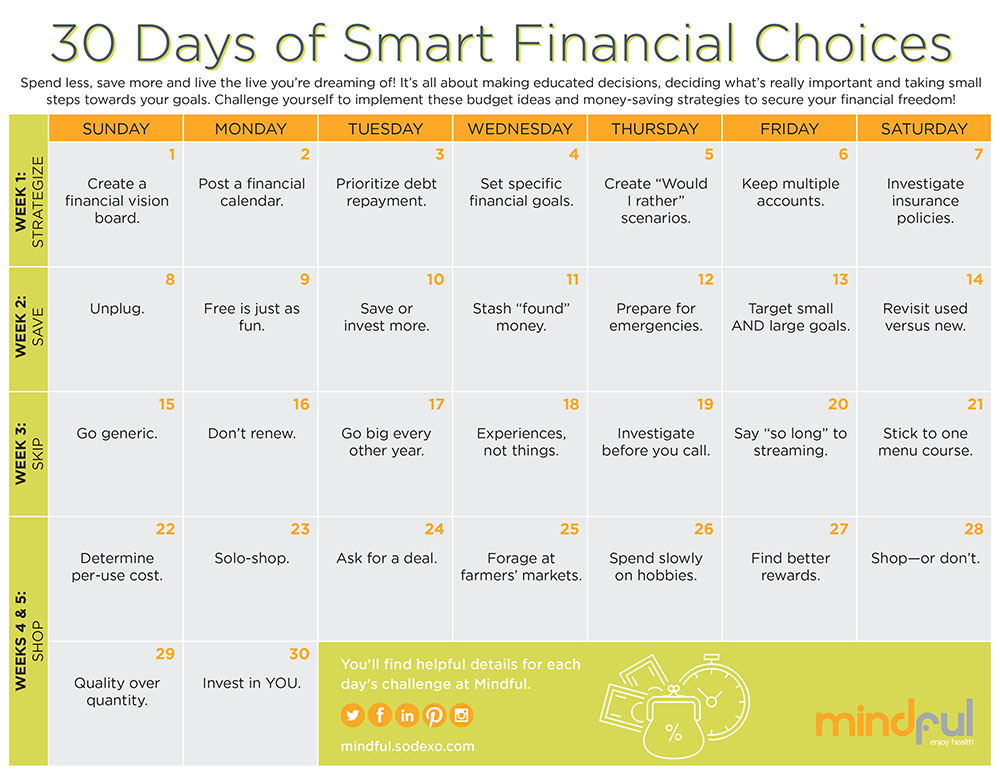 WEEK 1: STRATEGIZE
Day 1: Create a financial vision board. Whether you craft a Pinterest-worthy cork board, design an e-bulletin board page or just grab a notebook, add visuals and notes to represent each of your financial goals. Whether it's upgrading your software, buying a bungalow or saving for a jet-set vacation, include short- and long-term targets of every value.
Day 2: Post a financial calendar. If you need help with organization, literally tape a calendar on the cabinet door or create a screensaver of important money dates each month, such as payday, loan repayments or utility due dates. Strategic planning makes balancing the money in/money out flow a lot smoother. 
Day 3: Prioritize debt repayment. Which loan or debt should you pay off first? Concentrate on the one with the highest interest rate. (Unless a financial expert advises you otherwise.)
Day 4: Set specific financial goals. With numbers, that is. How big of a down payment do you need? What's the loan payoff balance? How much does a new stackable washer and dryer cost? Document those numbers so you can track your progress.
Day 5: Create "Would I rather" scenarios. "Would I rather order daily takeout or spend a week at the beach this summer?" These quick check-ins help you prioritize your goals.
Day 6: Keep multiple accounts. Separate checking and savings in different accounts and even different banks. The extra effort it takes to transfer funds may make you rethink an impulse purchase or an ATM withdrawal.
Day 7: Investigate insurance policies. Comparison-shop for coverage and ask if discounts are available (like good student or good driver). And always be sure you have adequate coverage for large losses that could set back your financial progress.
WEEK 2: SAVE
Day 8: Unplug. Lower energy costs by unplugging cords and turning off appliances and devices when not in use. Leaving devices on standby power can add 5 to 10 percent to your energy bill.
Day 9: Free is just as fun. Attend no-cost concerts downtown or in local parks and enjoy fairs and exhibits that don't charge admission.
Day 10: Save or invest more. Don't wait until your next paycheck or raise. Hit up your direct deposit authorization form at lunch today and increase the percentage you direct towards your savings or retirement account, no matter how small the increase is.
Day 11: Stash "found" money. Unless you're in a pinch, deposit gift money, that $5 lottery win and any rebates or refunds in your savings account, then move that money into a high-yield account once it accumulates.
Day 12: Prepare for emergencies. Set aside funds to cover sudden expenses, whether it's that out-of-network medical bill, replacing a muffler or a central AC repair.
Day 13: Target small AND large goals. Simultaneously. Meaning don't put all your savings nest eggs in one basket. While you're saving for a she-shed, go ahead and divert some funds for the newest Adobe class too.
Day 14: Revisit used versus new. The best bargains are often with "previously enjoyed" consumer goods, from books and tools to toys and furniture. Start with online marketplaces or spend a Saturday visiting yard sales.
WEEK 3: SKIP
Day 15: Go generic. Try store brands for your most expensive grocery purchases (pasta sauce or deli cheese, anyone?) and see if you and your family can skip the more expensive options and love the store brand just as much. Use the same philosophy for drugstore purchases too.
Day 16: Don't renew. If you're not using or enjoying media subscriptions or gym memberships, it's time to cancel. And investigate all those tiny monthly charges on your credit card bill to see if they're still vital for your lifestyle.
Day 17: Go big every other year. Tour your own city with friends one year, then take to the friendly skies the next. Every vacation is memorable, whether you spend big or pinch pennies.
Day 18: Experiences, not things. Forego the clutter-y souvenirs, trinkets and t-shirts. If your travel memories and photos aren't enough, buy an inexpensive magnet or postcard for your fridge to savor your vacation.
Day 19: Investigate before you call. Don't pick up the phone immediately to call a repairman. You may be able to make that small household fix by watching an online expert or tutorial, saving yourself a hefty service call fee.
Day 20: Say "so long" to streaming. It might be a radical choice to unsubscribe, but streaming services take a big bite of monthly budgets. Your local library now offers streaming with just a library sign-up—and there are endless other ways to view movies and shows without a monthly bill.
Day 21: Stick to one menu course. Dining out is a delicious adventure but add in apps and desserts and the bill grows fast, especially with a big family in tow. To save a little dough, enjoy an appetizer at home before you head out, then have a yummy dessert waiting when you return.
WEEKS 4 & 5: SHOP
Day 22: Determine per-use cost. Before you buy, calculate your cost per use. If you use a blender every single day for smoothies, you'll get your money's worth with any model you choose. Those handknit angora gloves you'll only wear twice a year because you're afraid to ruin them? That fanciness comes with a high per-use cost. Apply this principle to every purchase.
Day 23: Solo-shop. You'll be more discerning when you don't have a friend or kid along imploring you to "just buy it" or assuring you that "you deserve it." 
Day 24: Ask for a deal. No matter what it is—swim club membership, a wine buyer's club or a new lawn mower, it never hurts to inquire if the company is running a special rate or deal at the moment.
Day 25: Forage at farmers' markets. You'll often find great prices on fresh produce and specialty foods at local farmers' markets. Direct-to-consumer markets cut out the go-between so there's less markup.
Day 26: Spend slowly on hobbies. Even if you're "all in" with your newest passion, there's no need to buy the entire scrapbooking store on day 1 when a new tool and a pack of fancy paper will keep you crafting for a solid month. Spend wisely on supplies when starting out any new hobby to make sure you love it as much as you think you will.
Day 27: Find better rewards. If you use credit cards, you'll find tons of offers with sweet sign-on bonuses, cash-back offers, travel miles and free gear. Don't feel compelled to change companies if you're satisfied with the card you have, but don't overlook a stepped-up rewards program that might benefit you.
Day 28: Shop—or don't. If your inbox is bombarding you with retail deals and sales too hard to pass up, it might be time to remove the temptation and unsubscribe. Or at least redirect shopping emails to a separate folder where they don't catch your attention as easily.
Day 29: Quality over quantity. While cheap prices seem appealing, investing in a pair of tailored black pants or a high-quality tote bag not only means your purchase lasts longer, but it also saves you time because you won't be shopping for a replacement item two months later.
Day 30: Invest in YOU. Higher education, job training and skill development courses offer a greater return on your hard-earned money than almost anything you can buy.